By Dr. John Akudago, Senior Research Associate
Jean Zoundiis a 51-year-old man from Bissighin, a community located in the Commune of Saaba, which is about 25 km East of Ouagadougou in Burkina Faso. When I learned that the village was 22 km away from the Burkinabe Capital, I thought there was no need to go there to treat water since there would be running water. To my surprise, Mr. Zoundiled me to a pond that over 600 people depend on for drinking and other domestic purposes (see photo).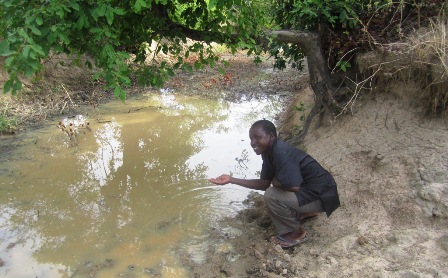 When asked if households treat their water after transporting it from the pond, Mr. Zoundiresponded, "In a large family of ten people, how much boiling can one do to get enough clean water for use? Where is the firewood to do that, and who has time to do that? We normally use filter cloth but sometimes we just drink directly from the pond not knowing what the quality is." He went on to say that almost everyone in their community suffers from guinea-worm infection at least 1-3 times per year. He showed me the scars on his leg where guinea-worms were extracted.
Having heard of Community Choices for Water (CCW) and what it could do, Mr. Zoundiwas anxious to test the usefulness of the tool. After walking him through the CCW, he selected a Biosand filter out of five possible solutions recommended by the CCW. Mr. Zoundihad the Biosand filter installed and then assembled the whole community to educate them on the technology. He has promised to bring change to the community within a month by installing Biosand filters for everyone, provided the households in Bissighin purchase the Veronica bucket (Biosand sand mold) and obtain the necessary accessories.