Blog | March 12, 2012
By Dr. John Akudago, Senior Research Associate
Over the last year, the Pacific Institute has been conducting learning sessions in Ghana and Burkina Faso in the development and dissemination of a decision-support system to empower communities and water, sanitation, and hygiene (WASH) practitioners to make informed choices on WASH technologies and approaches. I facilitated nine learning sessions to understand the key needs of residents, NGOs, and local governments in Ghana and Burkina Faso, and on the role that a decision-support tool could play in improving water and sanitation conditions on the ground. In Sabtenga, a rural community about 50 km north of Ougadougu, Mr. Mathias Kabore, one of the participants in the community learning session conducted on September 29, 2011, said, "The lack of water makes us unclean and we cannot stick to the hygiene practices advised by our hygiene educators."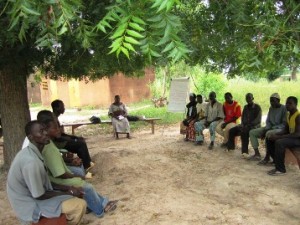 Unfortunately, there are only four hand-pump wells functioning for a population of 4,315, resulting in a daily struggle for water within the community. Other community members are forced to use water from polluted sources. However, because there is a lack of knowledge on the options for water treatment, contaminated water is not always purified before drinking. Mr. Denis Kabore, another participant, added that, "We know boiling is best but we can't wait that long." The community therefore called for more low-cost treatment options that were less time consuming for them to treat their contaminated water before drinking.

In both Ghana and Burkina Faso, WASH practitioners who attended the learning sessions thought a WASH decision-support tool would contribute to knowledge sharing and help reduce water-related diseases, because the high failure rate of hand-pump wells often forced residents to revert to polluted surface water sources to meet domestic water needs.
Since December 2011, the Pacific Institute has compiled and distilled feedback from the nine learning sessions to continue to refine our Community Choices decision-support prototype, including adding more culturally relevant questions, key information on costs and materials to build household drinking water treatment technologies, and more visual elements. The alpha version of the Community Choices for water system will be pilot-tested in three communities in northern Ghana in March 2012. Our West African Partners (NewEnergy, ProNet North, Rural Aid, World Vision, and Water and Sanitation for Africa) will be assisting the Institute in carrying out the pilot test to determine the effectiveness of Community Choices for Water to help facilitate community-led and sustainable decisions in the water sector.