For the latest updates about the California drought go to www.californiadrought.org

Read Previous Updates
Find all past drought
updates here.
From the Pacific Institute California Drought Response Group
This week in… The Delta Dilemma
The Sacramento-San Joaquin Delta provides a portion of the water supply for more than 23 million Californians and serves as a vital habitat for over 500 species of wildlife. Water management in the Delta has always been contentious; federal and state agencies must balance the needs of people and the environment, especially in times of water shortage. Following large storms in early March, Senator Dianne Feinstein (D-Calif) and House Majority Leader Kevin McCarthy (R-Calif) called on President Obama to direct federal agencies to maximize water exports to Central Valley farms and southern California cities. On the other hand, the Bureau of Reclamation, a federal authority that operates pumping facilities in the Delta, is considering reducing diversions under the advice of the Fish and Wildlife Service due to the presence of smelt larvae. The smelt population is an important part of the Delta's food chain and a biological indicator of the ecosystem's health. Water diversions harm fish populations by drawing fish and their predators to the same area and pulling small fish and their eggs into the pumps.
These recent events occurred amid debates over the twin tunnels project in the Delta, officially known as the California WaterFix. The plan would add water intakes and tunnels north of the Delta and away from smelt habitat, but many are concerned over future increases in water exports and impacts on the water supply and ecosystems.
In other news…
California Drought Status
Drought Monitor
Drought conditions have slightly improved over the last two weeks. Areas under exceptional and extreme drought conditions have shrunk to about 56% of the state. Improvements occurred mostly in the north; long-term severe drought conditions are still entrenched in much of central and southern California.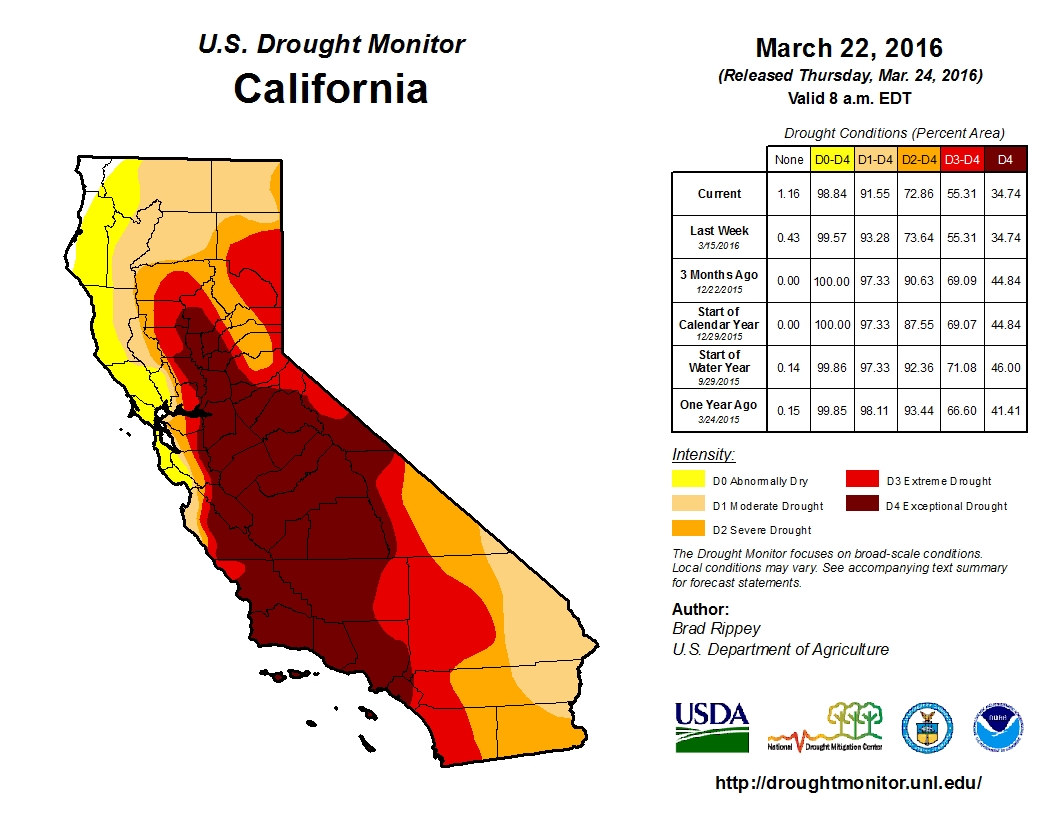 Precipitation
Following heavy precipitation events in early March, dry weather returned to many parts of the state.  
Snow-water content is at 86% of normal for this date, as of March 28 (see these snowpack plots for changes over time).
Cumulative precipitation is about average in the San Joaquin and Tulare basin regions and above average in the Northern Sierra.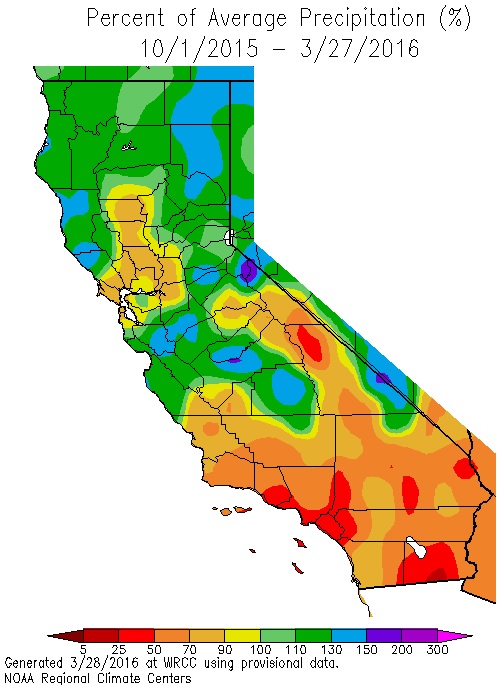 Reservoir Conditions
Water levels in California's major reservoirs (representing 27.3 million acre-feet of storage) have slightly increased to 59% of statewide capacity, compared to 52% two weeks ago. Levels are considerably higher than last year, but represent about 86% of group average for this date. Lake Oroville, Shasta, and Folsom are now at 113%, 109%, and 109% of historical average, respectively. However, many reservoirs in the South Coast and Tulare Lake Basin are still at about 20% to 40% of average capacity.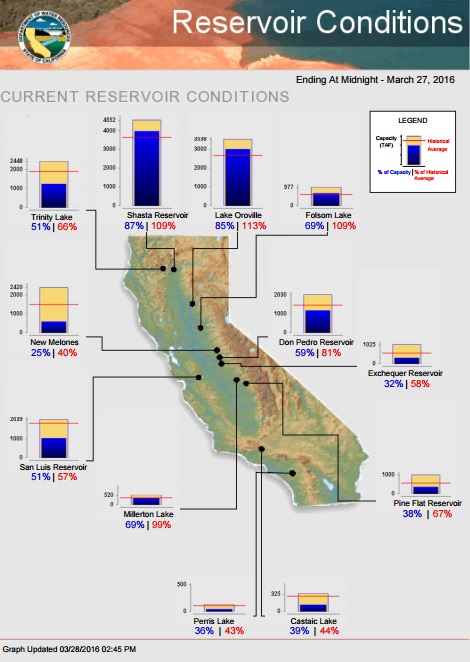 Groundwater Conditions
DWR published a map of groundwater level changes from fall 2011 to fall 2015. Areas with the greatest concern, i.e., those areas where groundwater levels have declined by more than 100 feet, can be found in parts of the Tulare Lake, South Coast, and Colorado River hydrologic regions.

Additional Resources