For the latest updates about the California drought go to www.californiadrought.org

Read Previous Updates
Find all past drought
updates here.
Update on the California Drought – February 2, 2016
From the Pacific Institute California Drought Response Group
This week in… Critically Overdrafted Basins
The Department of Water Resources (DWR) released the final list of critically overdrafted basins, defined as groundwater basins that would suffer significant adverse environmental, social, and economic impacts from the continuation of present water management practices. These basins overlay many important agricultural lands in Central Valley and coastal cities. Basic data in several groundwater basins, such as how much water is withdrawn, where it was pumped from, and how much remains in the aquifers, have generally been lacking in California despite the fact that the state pumps nearly one-fifth of all groundwater withdrawn in the U.S. annually. Therefore, DWR's evaluation was based on a review of available data, reports, and other information used to identify basins with clear evidence of adverse impacts. As the assessment covered 1989 to 2009, conditions of these critically overdrafted basins are expected to worsen during the current drought.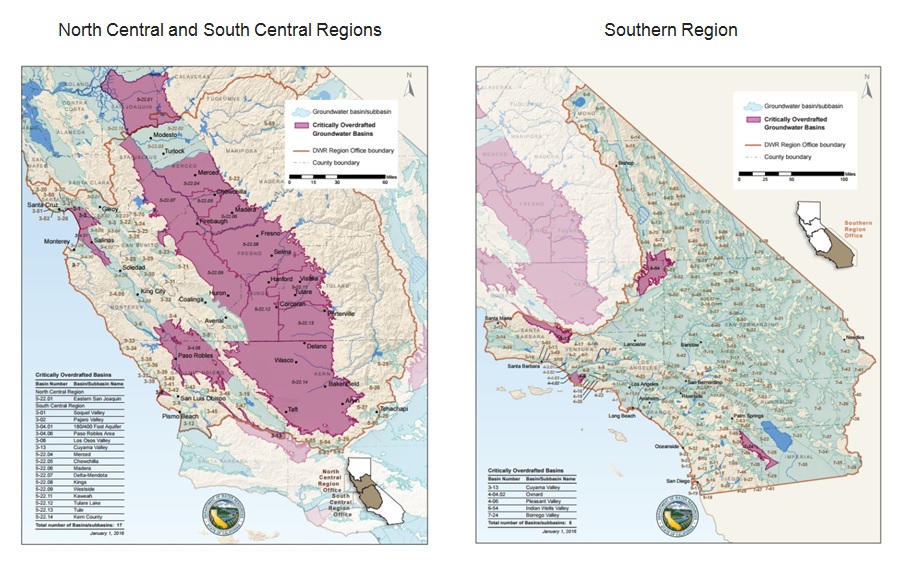 Click here to see the North Central and South Central Regions data in more detail. Click here to see the Southern Region data in more detail.
In other news…
California Drought Status
Drought Monitor
California is undergoing a slow and steady drought recovery. As of January 28, 40.21% of the state is in exceptional drought, an improvement of about 1.5 percentage points from the previous week. Signs of the modest dent to drought conditions are starting to show, e.g., water-year-to-date precipitation has eliminated most of California's short-term drought (now only in the west-central coast).
A new visualization of drought conditions is now available. Clear improvements in California are shown between November and December 2015.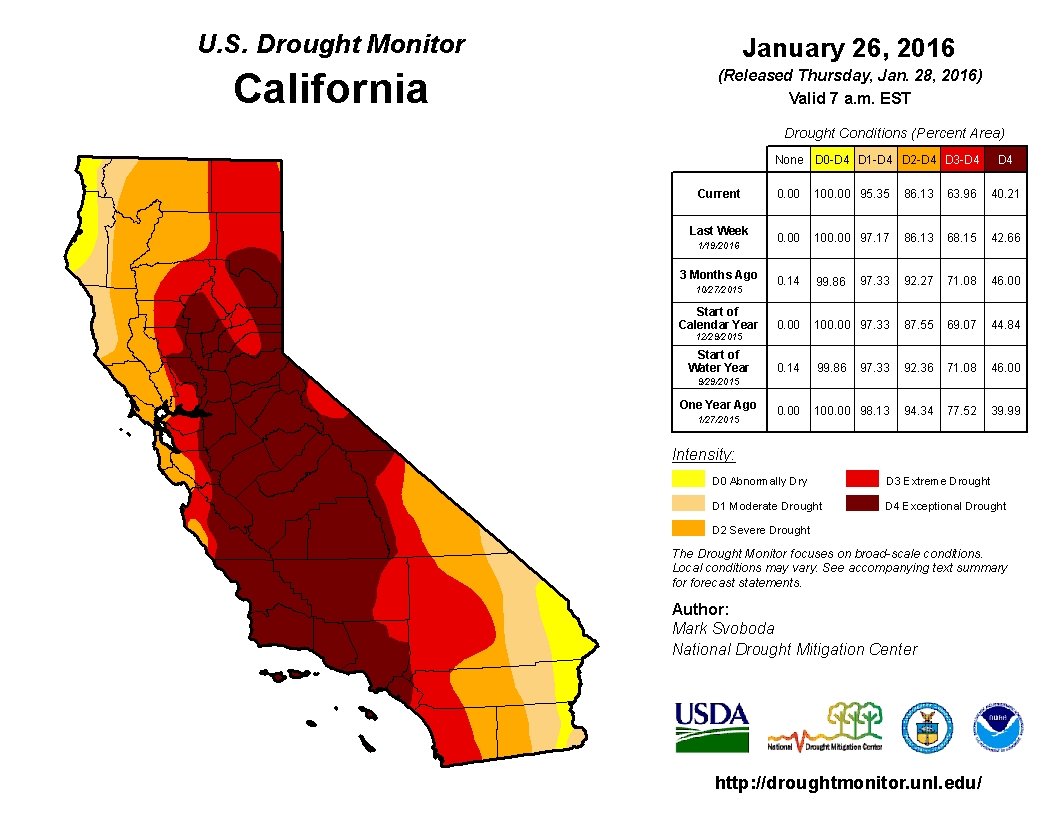 Precipitation
The weekend storm pushed statewide snow-water equivalent average to 20.2", or about 116% of the normal average, as of February 1. Snowpack is currently the deepest it has been in five years, since the onset of the drought. Cumulative precipitation since the beginning of the 2016 Water Year (Oct 1) is following the course of the 1997-98 wet years (see Northern Sierra, San Joaquin, and Tulare Basin precipitation index chart).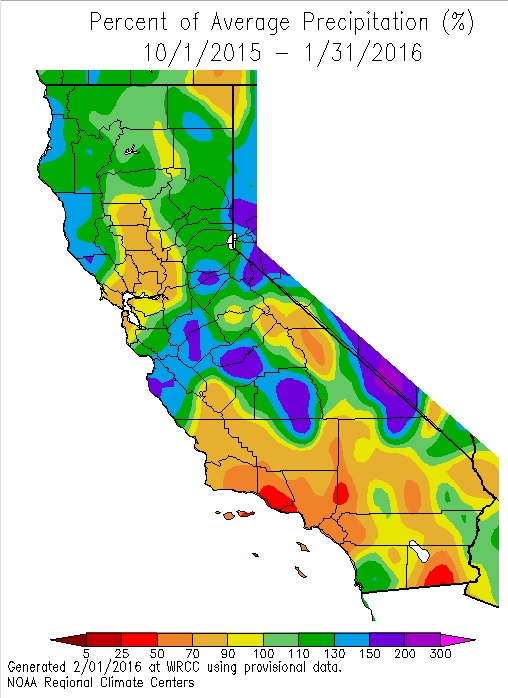 Reservoir Conditions
Water levels in California's major reservoirs (representing 27.3 million acre-feet of storage) have increased to 35% of statewide capacity, compared to 30% two weeks ago. These levels also represent 60% of group historical average, and are at 91% of their level last year. Major reservoirs, such as Lake Oroville, Shasta, and Folsom are now at 66%, 76%, and 104% of historical average, respectively.


Hydropower
Hydroelectric power generation in November 2015 was about 650,000 MWh, or 22% lower than in 2014 and 63% lower than the 2001-2011 November average.