For the latest updates about the California drought go to www.californiadrought.org. 
This week in… Groundwater
Today, Governor Brown will sign into law new legislation designed to ensure the sustainability of the state's groundwater resource. The bill would allow a groundwater management agency to regulate groundwater use, register pumps, and require users to measure their use.
The law will take many years to implement; the most at-risk basins have until 2020 to develop and implement a groundwater sustainability plan that outlines objectives for achieving their sustainability goals within 20 years of the plan's adoption. The legislation defines "sustainable management" as groundwater use that does not cause "undesirable results," such as chronic lowering of groundwater levels, reductions in storage, seawater intrusion, or land subsidence.
In other news…
–A new poll shows that, while nearly two-thirds of likely voters hadn't heard anything about Proposition 1, the water bond that's on the ballot in November, more than half of those surveyed would vote yes on it.
-Three hundred sixty-two urban water suppliers reported progress on conservation efforts to the State Water Resources Control Board. In July, statewide urban water use dropped 7.5% from last year's use.
-According to NOAA's National Climate Data Center, 2014 has been the warmest on record in California, with a temperature 4.1°F above the 20th century average. This map shows how far temperature has departed from the average since January 1st.
–Since January 1st, CAL FIRE has responded to 4,750 wildfires on 84,784 acres. The year-to-date historical average is 3,777 wildfires on 84,356 acres. These figures only represent CALFIRE incidents and so the total number of fires and acres burned is much higher.
California Drought Status
Drought Monitor
Drought conditions have not changed since last week.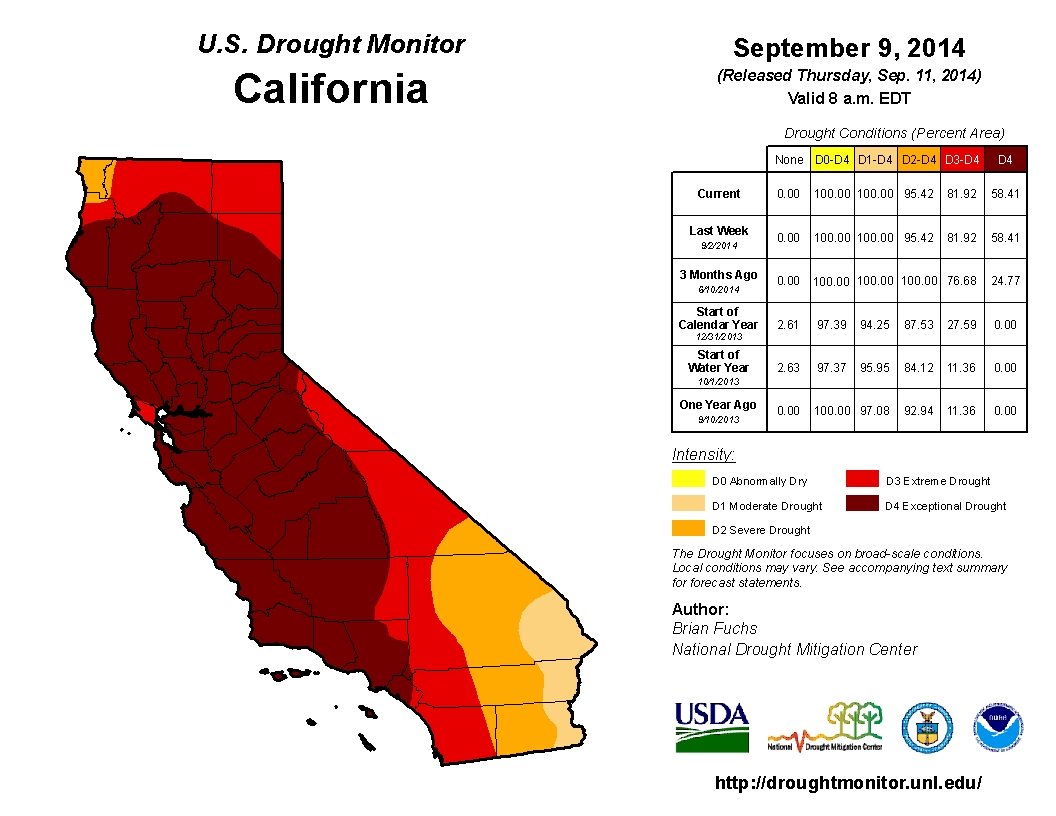 Reservoir Conditions
Statewide, California's major reservoirs (representing more than 27.2 million acre-feet of storage), are at about 31% of total capacity and 52% of normal. The state's five largest reservoirs (Shasta, Trinity, New Melones, San Luis, and Oroville) are all below 31%.