For the latest updates about the California drought go to www.californiadrought.org. 
This week in… Crops
This week we'll cover what we know so far about this year's progress of some of California's major crops:
In other News…
The USDA has designated the California Bay Delta (including the Central Valley) as a Critical Conservation Area (CCA). The CCA – under the Regional Conservation Partnership Program – connects businesses, non-profits, universities, and federal, state and local governments with agricultural and conservation groups to invest in innovative water and soil conservation projects. The overall goal of the California Bay Delta CCA is to promote water conservation, improve water quality and restore wildlife habitat throughout the Bay-Delta region.

The State Water Resources Control Board has ordered post-1914 water rights holders in the Sacramento and San Joaquin River watersheds to stop diversions. SWRCB has also established drought emergency minimum flow requirements in Mill, Deer, and Antelope Creeks.
The Friant Water Authority (FWA) had petitioned the courts to stop the flow of Millerton Lake water to contractors with pre-1914 water rights, pending the outcome of their lawsuit against the Bureau of Reclamation to resume deliveries to FWA contractors on the east side of the valley. However, the U.S. District Court in Fresno has refused, and deliveries to the exchange contractors will continue. 
California Drought Status
Temperature
Average temperatures in most of northern California and parts of southern California have been higher than average this past week.
Precipitation
Precipitation this past week and month has been lower than the historical average for most of the state, with particularly dry areas in the north and unseasonably wet areas in the Tulare Lake basin.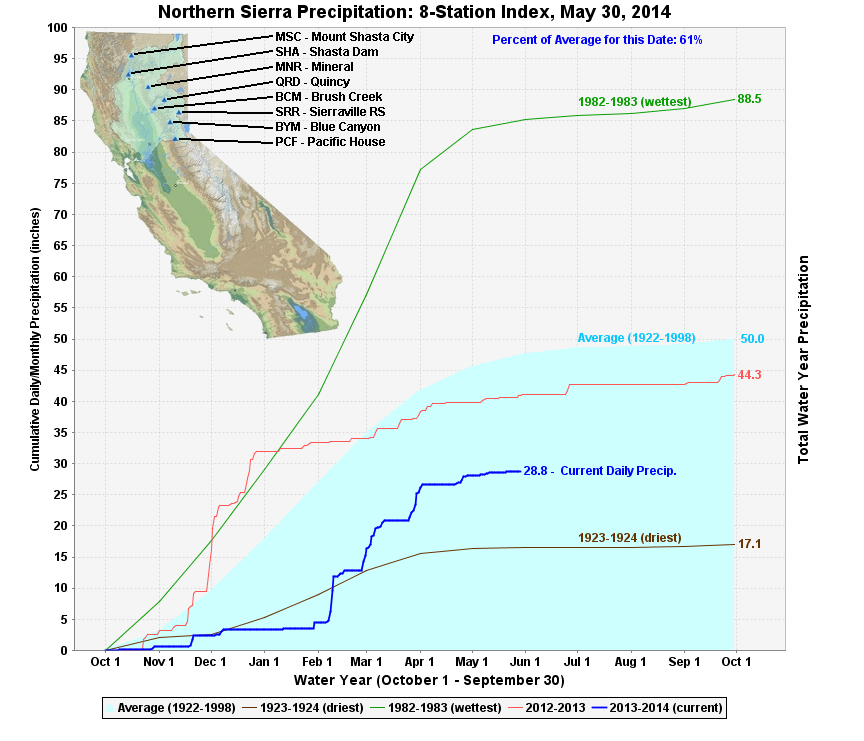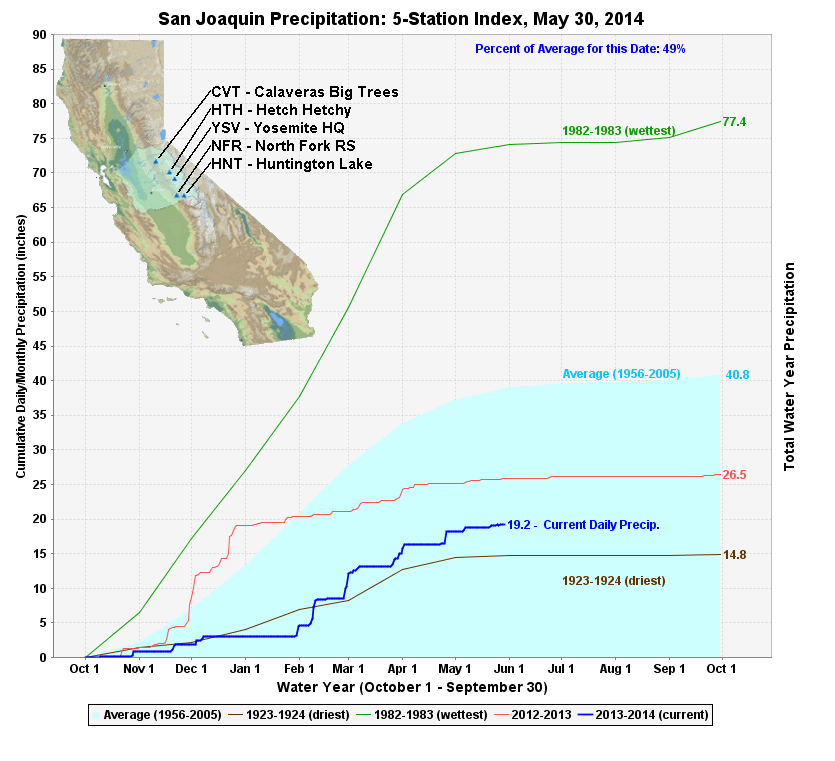 Snowpack
California snowpack is currently 3% of what's normal for May 29th and 1% of the April 1st average. According to the 28 automatic snow sensors in the Southern Sierra, there is no more snow in the that area.
Reservoir Conditions
Reservoir conditions haven't changed much since last week. Statewide, California's major reservoirs are at about 48% of total capacity and 62% of normal.