For the latest updates about the California drought go to www.californiadrought.org. 
This week in… Groundwater
Last Tuesday, Sacramento Superior Court Judge Allen Sumner ordered Siskiyou County to regulate groundwater pumping in order to protect the Scott River. The Environmental Law Foundation, the Pacific Coast Federation of Fishermen's Associations, and the Institute for Fisheries Resources brought the case against the county and the State Water Resources Control Board after groundwater pumping had caused water levels in the Scotts River to decline dramatically, in some cases to the point where the river would dry up in the summer and fall, impacting fish and, notably, navigability.
Under California law, the state holds navigable waterways "in trust" for the benefit of all Californians and must take this responsibility into account when making decisions that will impact the public trust. The court decision states that, "the court concludes the public trust doctrine protects navigable waterways from harm caused by groundwater extraction…[and]  the County, as a subdivision of the State, is required to consider the public trust when it issues well drilling permits." 
In response to the decision, State Board attorney Michael Lauffer told Bloomberg BNA, "Judge Sumner's decision is an important and thoughtful decision which reaffirms that the public trust doctrine protects our state's navigable waterways."
The county is expected to appeal the decision.
In other news…
The Environmental Law Foundation is also busy sending letters to agricultural water districts that have not developed their Agricultural Water Management Plans, as required by legislation, threatening suit if they do not.
On Tuesday, the State Board approved an emergency regulation to improve water conservation in urban areas.
USDA is providing $9.7 million in emergency water assistance to 73,000 residents in 11 California counties. 
California Drought Status
Drought Monitor
Droughts conditions as measured by the US Drought Monitor worsened this week, with nearly 82% of the state in extreme drought, up from 79% last week.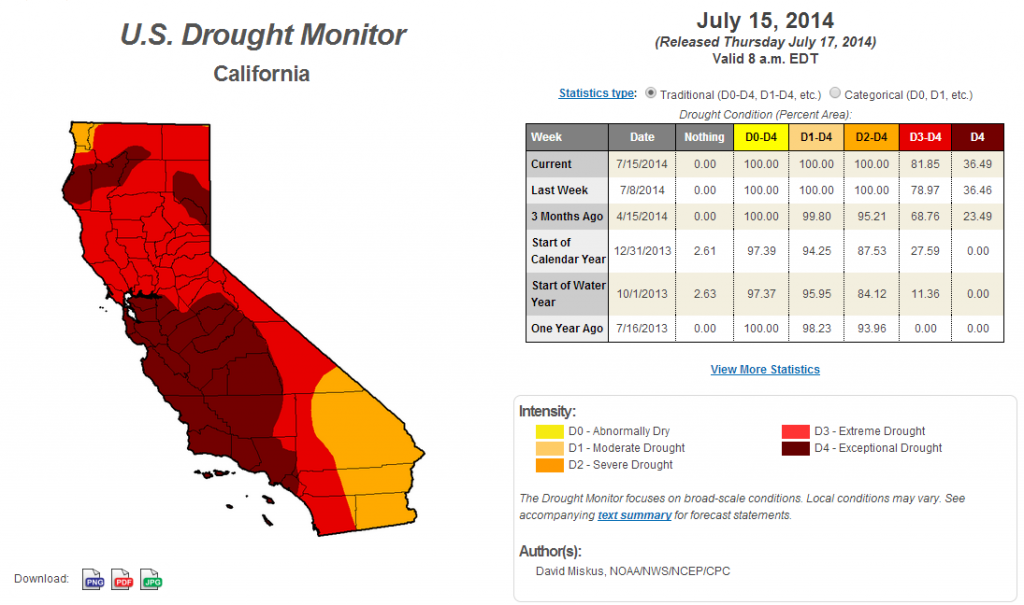 This graph shows the development of drought conditions in California since the U.S. Drought Monitor was established. (Image created by Teamrat A. Ghezzehei)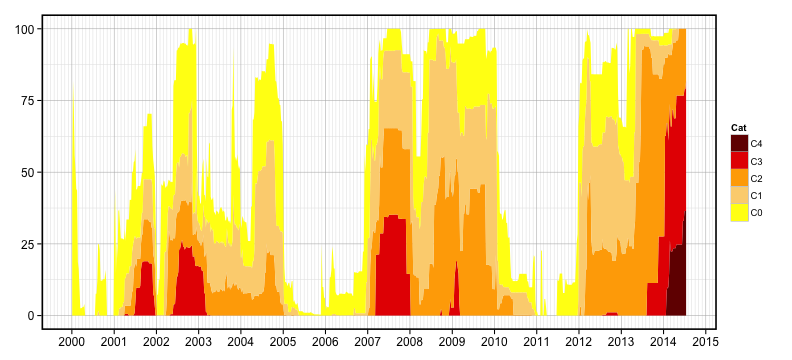 Reservoir Conditions
Statewide, California's major reservoirs are at about 38% of total capacity and 53% of normal.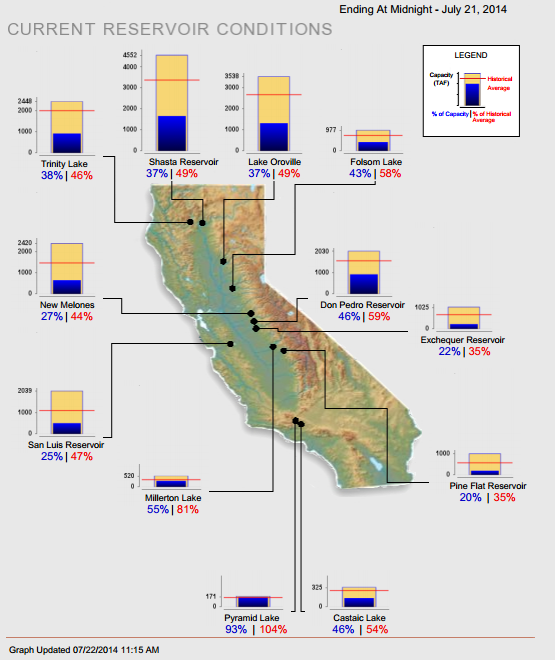 Statewide Water Conservation
A new State Board survey showed water use in May increased 1% from the past two years, although the increase was concentrated in the North Lahontan and South Coast hydrologic regions.