For the latest updates about the California drought go to www.californiadrought.org. 
Read Previous Updates
Find all past drought
updates here.
This week in… The "Godzilla" El Niño
The National Weather Service's Climate Prediction Center now says that there is a greater than 90% chance that El Niño will continue through Northern Hemisphere winter 2015-16, and around an 85% chance it will last into early spring 2016.
The most powerful El Niño on record was in 1997, which doubled the annual rainfall to Southern California and doubled the snowpack in the Sierra Nevada. However, storms also resulted in punishing floods and mudslides. The current signal in the ocean is stronger now than it was in 1997, according to NASA climatologist Bill Patzert.
However, California's unhatched chickens must not yet be counted. A strong El Niño is going to require a major collapse of the trade winds that could otherwise block El Niño's storms from reaching California. In addition, a mass of warm water (dubbed "the blob") in the Pacific Ocean might also dampen the impact of an El Niño. Should higher temperatures cause precipitation to fall in the form of rain rather than snow, California water managers might not be able to capture and store all of it. And even if the "Godzilla" El Niño does develop, California will still have massive water deficits that will be exacerbated if drought conditions continue in the years to come.
In other news…
On July 31st, Governor Brown declared a state of emergency in California to help mobilize additional firefighting and disaster response resources.
The Forest Service released a report that shows firefighting now consumes more than half of the agency's annual budget, up from 16% in 1995. Bills are now moving through congress to try to address this issue.
The Los Angeles Department of Water and Power has released 96 million "shade balls" into the Los Angeles Reservoir in order to prevent evaporation and protect water quality.
AT&T announced a special offer to help California customers detect water leaks in their homes. As part of the program, AT&T will also make contributions to The Nature Conservancy to help protect California's water resources.
The California Energy Commission voted to increase water efficiency standards for showerheads and moved up the implementation date for recently-adopted standards for lavatory faucets.
California Drought Status
Drought Monitor
Drought conditions
remain mostly unchanged (excepting a slight decline in the percent of the state in "severe drought") from two weeks ago.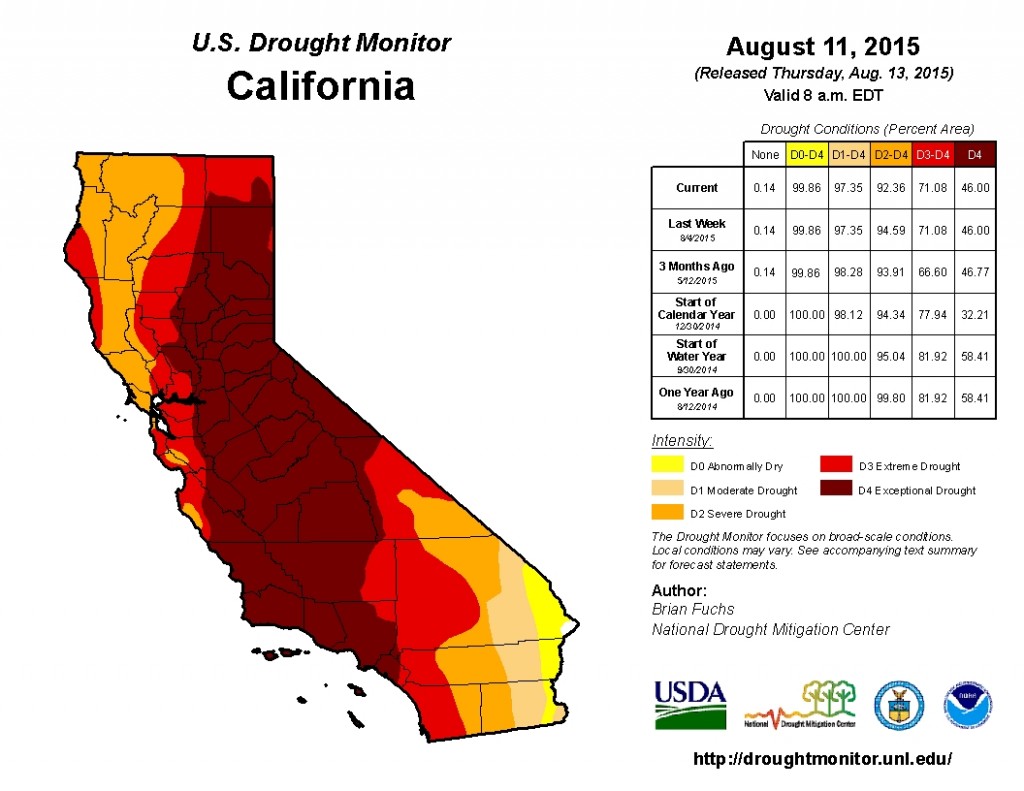 Reservoir Conditions
Statewide, California's major reservoirs
(representing 27.3 million acre-feet of storage) are at 32% of capacity and 49% of group average.