How healthy is Oakland's development?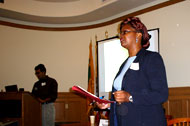 October 7, 2006, Oakland, CA: On October 6, 2006, the Pacific Institute and the West Oakland Environmental Indicators Project sponsored "Planning Healthy Cities for the 21st Century," a forum at Oakland City Hall to address this very question.
Most city planners ascribe to the goal of fostering "healthy cities," yet the methods to translate this vision into reality – comprehensively and demonstrably – have been hard to muster. Popular planning concepts such as smart growth, new urbanism, and sustainable development often miss directly affecting community-level quality of life, health problems, and housing affordability. These latter issues are at a crisis point in Oakland and other cities across the nation.
Chronic health problems such as obesity, diabetes, hypertension, and asthma are recognized as conditions with distinct environmental and land-use causes. These factors are often tied to urban development that unfolds in an inequitable manner and that fails to consider health realities. Across the city, residents in many neighborhoods suffer from a lack of safe walkable routes to schools, shopping, and recreation. Neighbors lack access to quality open or natural spaces and poor access to healthy foods. Places of positive community engagement, socialization, and expression are virtually nonexistent. Meanwhile, these same neighborhoods typically have an over-concentration of freeways, automobile/truck congestion, and point sources of pollution.
For fifteen years, viewing land-use planning in terms of public health impacts has been gaining ground in Europe as part of the "Healthy Cities" agenda. Now many planners in the U.S are also reassessing these critical links. Speakers and panelists at the Oakland forum emphasized the importance of fostering these links and discussed some means to effect changes in how we approach planning decisionmaking from a health perspective. Speaker presentations, as well as the overall recommendations that emerged from the workshop, can be downloaded from the list at top right.
Specific recommendations that came out of the break-out groups included:
incorporate health and health measures into the Oakland's General Plan;
incorporate health measures into the land-use approval process;
engage residents beyond notification to actively collaborate in the shared planning vision of creating a vital, healthy, and livable community.
For an extended list of ideas and recommendations, click here.
Participants agreed that continuing the collaboration between health and planning practitioners would be a key necessity. A group of city planners, Alameda County public health practitioners, and community advocates have been meeting since the October workshop to strategize and take action to implement the recommendations emerging from the workshop. For information on how to get involved please e-mail Swati Prakash or call 510-251-1600.
"Planning Healthy Cities for the 21st Century," was co-sponsored by the Alameda County Public Health Department and Environmental Health Services, Human Impact Partners, and the Disability Rights, Education & Defense Fund. More than 60 participants came to listen to speakers and discuss the need for greater collaboration between health and planning.
Keynote speakers at the event included Oakland Planning Commissioner Michael Lighty, Alameda County Health Officer Dr. Tony Iton, and State Director of Health and Planning Programs Paul Zykofsky. Kitty Epstein of Mayor-elect Dellums' transition team also spoke in support of the effort. City of Oakland planners, economic development staff, City Councilmembers Nancy Nadel and Jean Quan, and various community advocates also participated.