Meet Our Staff: Robert Jensen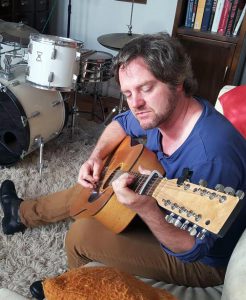 Robert Jensen joined the Pacific Institute in May 2016 as a full stack developer and technology specialist. Robert has a diverse technical background, "ranging from creating network architecture for large-scale facial recognition deployments meant to capture kidnappers in Mexico, to restoring vintage motorcycles with modernized technology.
He grew up in Hillsborough, New Jersey, surrounded by electronics. His father was a computer engineer in the 1960s and his grandfather worked on IBM's first mainframe computer during the 1950s. "He would use roller skates to replace tubes in those old primitive computer systems that would span several rooms," Robert said. "But by today's standards, it would be as powerful as a calculator."
Throughout his life, Robert has had a strong interest in music. He started playing classical guitar at age 10 after hearing Jimi Hendrix perform "Purple Haze." Soon he was applying his technical skills to the music arena, refurbishing and classic mixing consoles and building his own guitar amplifier. In the late 1990s, he began coding websites and designing computer systems capable of recording multitrack audio, "a painful task in the Windows 95 era," he says.
At 19, Robert moved to Hollywood to pursue a career as a musician. At one point, he lived out of an abandoned Rolls Royce near Hollywood Street. Eventually, music led Robert to San Francisco, where he performed with his rock band Singer and with several other bands, performing up and down the West Coast.
Eventually, Robert was hired to play bass guitar by the IT director of an investment firm in San Francisco, where he was soon recognized for his self-taught technical skills and asked to join the management information systems (MIS) team as a contractor, which led him to open his own web development company.
Robert has a keen interest in innovation for good. He was an initial member of the non-profit organization Reallocate, which helps people reallocate their technological skills for good and has spearheaded projects in Haiti, Nepal, and throughout the world.
Robert is currently involved in several do-it-yourself projects, including a virtual reality camera rig, a wind turbine, an automated low-flow showerhead, and a system for harvesting the rainwater gathered on rooftops. A firm believer in sustainability, Robert says he was drawn to the Pacific Institute's "focus on the planet's current water issues" as well as the Institute's "data-driven approach."
In his spare time, Robert continues to play music while participating in the sharing economy, travel hacking, dog whispering, and staying current with technology.