February 18, 2015
By Mai-Lan Ha, Senior Research Associate
The intersection of business, water, and human rights has a contentious past. From protests, to legal battles, to the suspension of business operations, addressing local community conflicts over water and sanitation issues is a business imperative. Last month, the Pacific Institute in its role as part of the Secretariat of the CEO Water Mandate launched the first comprehensive guide to help businesses meet their responsibility to respect the human rights to water and sanitation. The document Guidance for Companies on Respecting the Human Rights to Water and Sanitation: Bringing a Human Rights Lens to Corporate Water Stewardship provides companies with step-by-step guidance to know and to show that they are respecting the rights.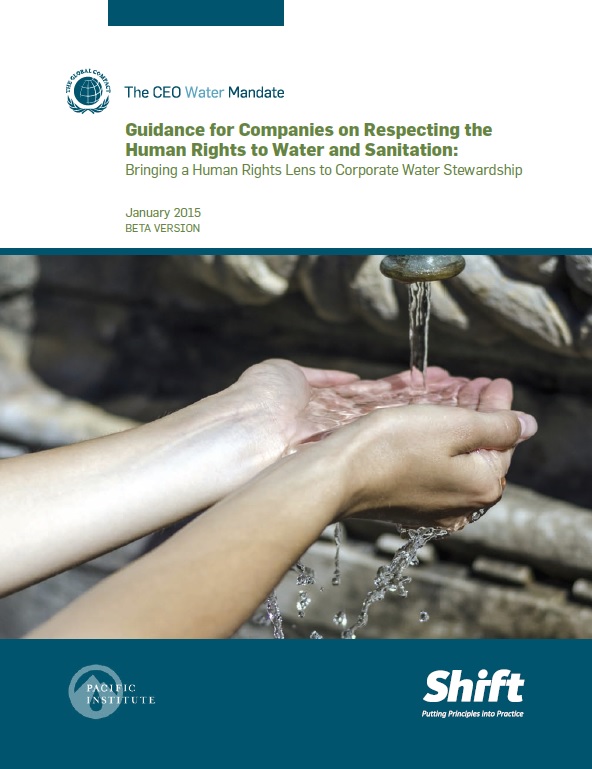 With the formal recognition of the human right to water and sanitation in 2010 by the UN General Assembly and the Human Rights Council, and the adoption of the UN Guiding Principles on Business and Human Rights in 2011, there are increasing expectations that companies align their water management practices with their responsibility to respect human rights. The guidance, produced in cooperation with Shift, a leading center of practice on the corporate responsibility to respect the human rights to water and sanitation, helps companies incorporate their responsibility to respect the human rights to water and sanitation into their existing water management policies, practices, and company cultures.
A number of companies have already taken the lead in developing policy commitments to respect the rights to water and sanitation and are making efforts to understand and respond to identified local water impacts.  One company, for example, has begun to integrate the human rights to water and sanitation into their assessments. At one of its plants, the assessment highlighted the community's complaints about reduced access to safe water and increased health problems. The company sought to understand the nature of the problem (overdraft of local groundwater mainly due to irrigation practices by local farmers) and undertook direct action by working with local farmers with whom it had business relations to improve local water usage. The company also pledged to engage with local NGOs, water experts, and others in order to monitor and assess whether efforts to address the problem are effective over time.
This is just one example of actions companies have taken; the guidance will help more companies identify how they might implement similar actions.
The Importance of Stakeholder Engagement
The underlying theme that pervades the document is the importance of company executives understanding how their operations' water use affects local people and ecosystems and then engaging with those people to create solutions to the problems. This people-centered approach requires companies engage with stakeholders during each key process, from developing a policy commitment, to understanding, mitigating and addressing impacts, and to communicate those actions to local communities or other identified affected stakeholder groups.
Bringing Two Worlds Together
Ensuring companies respect human rights to water and sanitation requires knowledge of human rights issues as well as water issues. Therefore, companies must develop internal management structures that includes both  human rights and water stewardship functions within a company, and also often involving colleagues from related departments (such as those focusing on supply chain issues to those working on environmental, health, and safety issues). The aim is not to create new systems from scratch, but rather for companies to examine their existing systems to determine how the human rights dimension might be brought to their water work and further strengthen their water stewardship programs overall.
With the release of this guidance document, companies now have a reference point to examine their internal processes in order to make the appropriate adjustments necessary to ensure they understand how they might impact the human rights to water and sanitation as well as how they might respond. Companies that do so are well positioned to manage their reputation, meet the growing expectations by communities, and investors, as well as to prepare themselves for any regulatory changes brought about by the government's commitment to protect the rights to water and sanitation.  Ultimately, these new practices bring a necessary social and environmental component to their work as good corporate water stewards working toward more sustainable water management.
Learn more about the guidance here.
Pacific Institute Insights is the staff blog of the Pacific Institute, one of the world's leading nonprofit research groups on sustainable and equitable management of natural resources. For more about what we do, click here. The views and opinions expressed in these blogs are those of the authors and do not necessarily reflect an official policy or position of the Pacific Institute.