The Congressman George Miller Water Policy Leadership Program
Last summer, the Pacific launched the Congressman George Miller Water Policy Leadership Program, which supports two water policy interns annually. The goal of the program is to train the next generation of water, sustainability, environmental, and economic justice leaders.
The program was established to honor the long service of Congressman George Miller to his country, and his legendary dedication and historical accomplishments around sustainable solutions to Western U.S. water policy reform.
Meet This Summer's George Miller Interns
Abbey Warner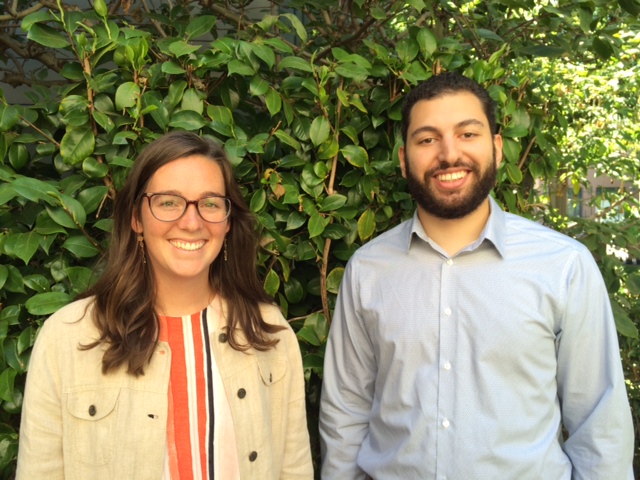 Abbey recently graduated from UC Berkeley, where she pursued studies in ecology, sustainable agriculture, natural resources, international development, and Spanish through coursework and research internships, culminating in a B.S. in Conservation and Resource Studies with a minor in Spanish.
Previously, her passion for ecology led her to work on a small family farm in Missoula, Montana, and later as a nursery and habitat restoration fellow for a Bay Area nonprofit organization, where she helped grow native plants and restore transition zone wetlands.
Abbey says she is thrilled to join the Pacific Institute, since so many of her personal interests "intersect in the world of water." At the Pacific Institute, she will be working with the CEO Water Mandate, a public-private initiative established by the United Nations Global Compact, to assist companies with corporate water stewardship, researching the effects of industrial growth on freshwater quality. The Pacific Institute is Secretariat of the Global Compact.
Upon completion of the internship, Abbey hopes to continue to work for organizations facilitating sustainable and equitable resource use.
Gabriel Daiess
Gabriel explains that growing up in the West Bank, a region of the world suffering from conflicts over water, working towards access to water, sanitation, and hygiene for all is one of his "foremost passions." He recently graduated with a B.A. in Environmental Studies from UC Santa Barbara. While a student there, he also studied California water issues at the UC Berkeley Energy and Resources Group, as well as sustainable development at the UC Berkeley College of Environmental Design.
Prior to joining the Pacific Institute, Gabriel worked at a startup company helping Californians quantify energy and water savings gained through rebates to increase homes' end-use efficiency. He has also worked with municipalities and regional planning agencies to help implement a water and energy conservation program to retrofit low-income multi-family units.
Gabriel's research at the Pacific Institute will focus on international best practices to ensure water affordability, as well as best practices California water policy experts can implement to achieve the goals set out by AB 685, which protects the human right to water in California.
After the Pacific Institute, Gabriel hopes to gain more experience in water resource management and the water-energy-climate nexus by working at a utility or governmental agency. Eventually, he hopes to pursue graduate education in environmental engineering and policy focused on the global south.