By Juliet Christian-Smith, Senior Research Associate
California is facing new challenges to sustainable water management, particularly when it comes to water rate-setting. The twin pressures of increasing water costs (driven by everything from deteriorating infrastructure to climate change) and decreasing water demand (associated with the economic recession and conservation and efficiency improvements) are often known as the "new normal." This "new normal" means that many water service providers are experiencing a gap between the cost of providing water services and the prices that customers pay. In order to maintain fiscal solvency, many water service providers are increasing water prices and/or changing water rate structures.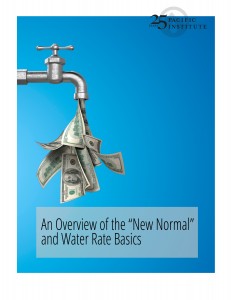 At the same time, new rules in California (Proposition 218) require an extensive public notification process announcing any changes to water rates and the opportunity for rate-payers to lodge formal protests or even reject rate increases. This increased public scrutiny of water rate changes is not always informed by a comprehensive understanding of the challenges that water service providers face in terms of delivering safe drinking water while also balancing multiple societal objectives from water conservation to water affordability.
The Pacific Institute is launching a new series of white papers that examine water rate-setting from a variety of angles. The first white paper in the series, An Overview of the "New Normal" and Water Rate Basics, is required background reading for anyone interested in water prices. The white paper describes the trends shaping the "new normal" and why it is leading to increasing water prices and changes in water rate structures. The paper also covers the three most common water-rate structures – flat rates, uniform volumetric rates, and block or tiered rates – and gives examples of how they are applied.
A well-designed water rate structures can help a water service provider to achieve particular objectives, such as ensuring equity or providing reliable revenue. However, there is no "one-size-fits-all" rate structure: each structure has its own advantages and disadvantages, and can be more or less effectively implemented. Choosing an appropriate rate structure means first clearly defining goals and objectives. Successful implementation requires adequate human, financial, and institutional capacity, and constraints must be considered up-front. Although the new normal will no doubt impact California water utilities, accurate analyses, thoughtful planning, and effective communication can foster resiliency in the face of changing conditions.
Stay tuned for future white papers on lessons from the energy sector, water affordability, and water financing options.
Pacific Institute Insights is the staff blog of the Pacific Institute, one of the world's leading nonprofit research groups on sustainable and equitable management of natural resources. For more about what we do, click here. The views and opinions expressed in these blogs are those of the authors and do not necessarily reflect an official policy or position of the Pacific Institute.