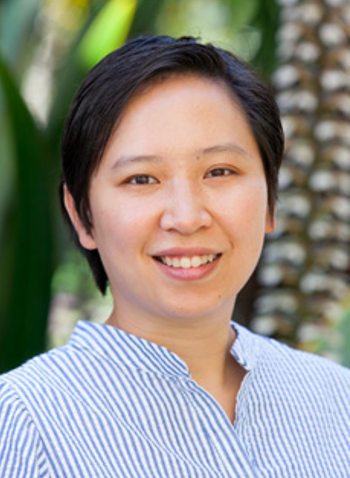 December 8, 2021, Oakland, California – The Pacific Institute today announced Mai-Lan Ha has been promoted to join its executive team as Associate Director of Corporate Water Stewardship and Deputy Head of the CEO Water Mandate. Ha has played a leadership role in developing the Pacific Institute's corporate water stewardship program since 2011, including serving as Senior Researcher and Corporate Water Stewardship Co-Lead since 2017, and as a Senior Advisor to the United Nations Global Compact CEO Water Mandate.
In her new role, Ha will provide strategic and functional leadership for the CEO Water Mandate, the corporate water stewardship program of the United Nations Global Compact that unites more than 200 companies committed to specific water stewardship practices. The Pacific Institute has served as the Co-Secretariat of the CEO Water Mandate since its founding in 2007. Ha will also increase her leadership role for the Water Resilience Coalition launched by the CEO Water Mandate in 2020. The Coalition unites CEOs of major corporations to elevate global water stress on corporate agendas and lead large-scale collective action in water-stressed basins. The Coalition currently has 27 corporate members with market capitalization of US$3.5 trillion.
"We are thrilled to welcome Mai-Lan to this expanded leadership role," said Jason Morrison, President of the Pacific Institute and Head of the CEO Water Mandate. "Mai-Lan has been instrumental in leading significant growth of the CEO Water Mandate and Water Resilience Coalition. As the Pacific Institute advances toward its 2030 goal to catalyze the transformation to water resilience, Mai-Lan's strategic vision will be critical to fully scale corporate-sector commitments and action on water."
"The next decade must be marked by bold, ambitious action on water by the corporate sector," said Ha. "The increasing impacts of climate change and ongoing impacts of the pandemic highlight the need to build water resilience through the corporate sector in partnership with our UN, civil society, and government partners from the local to the global levels. I'm excited to work with the Pacific Institute and the United Nations Global Compact to ensure corporate action adequately responds to the challenges we face."
Prior to joining the Pacific Institute, Mai-Lan worked on trade, sustainable development, and human rights issues in Southeast Asia. Mai-Lan holds a Master's of International Affairs degree from Columbia University's School of International and Public Affairs, as well as a BA in History from the University of California, Los Angeles.
Based in New York City, on a secondment to the UN Global Compact, Ha is part of the Pacific Institute's global staff located across multiple continents. 
### 
Founded in 1987, the Pacific Institute is a global water think tank that combines science-based thought leadership with active outreach to influence local, national, and international efforts in developing sustainable water policies. The Pacific Institute's mission is to create and advance solutions to the world's most pressing water challenges. Through an interdisciplinary and nonpartisan approach, the Institute actively collaborates with a diverse set of stakeholders, including policymakers, scientists, corporate leaders, international organizations such as the United Nations, advocacy groups, and local communities.