By Cora Kammeyer 
California is back in a drought. You've heard it on the news, you've heard it from scientists, and they're right — 100% of the state is in at least moderate drought. Yet, California Governor Gavin Newsom has yet to declare a statewide drought emergency, instead opting for county-level declarations — 50 of 58 counties have been declared so far this year. And if you look closer at what impacts different regions are facing, and how they are responding, you see important differences in water shortage conditions across the state.  
How Do We Measure Water Shortage?
There are many ways to measure water shortage, but it is generally understood as the gap between water availability and water demand at a given time in a specific region. Three simple indicators can help provide the big picture: drought conditions, reservoir levels, and  previous investments in saving water.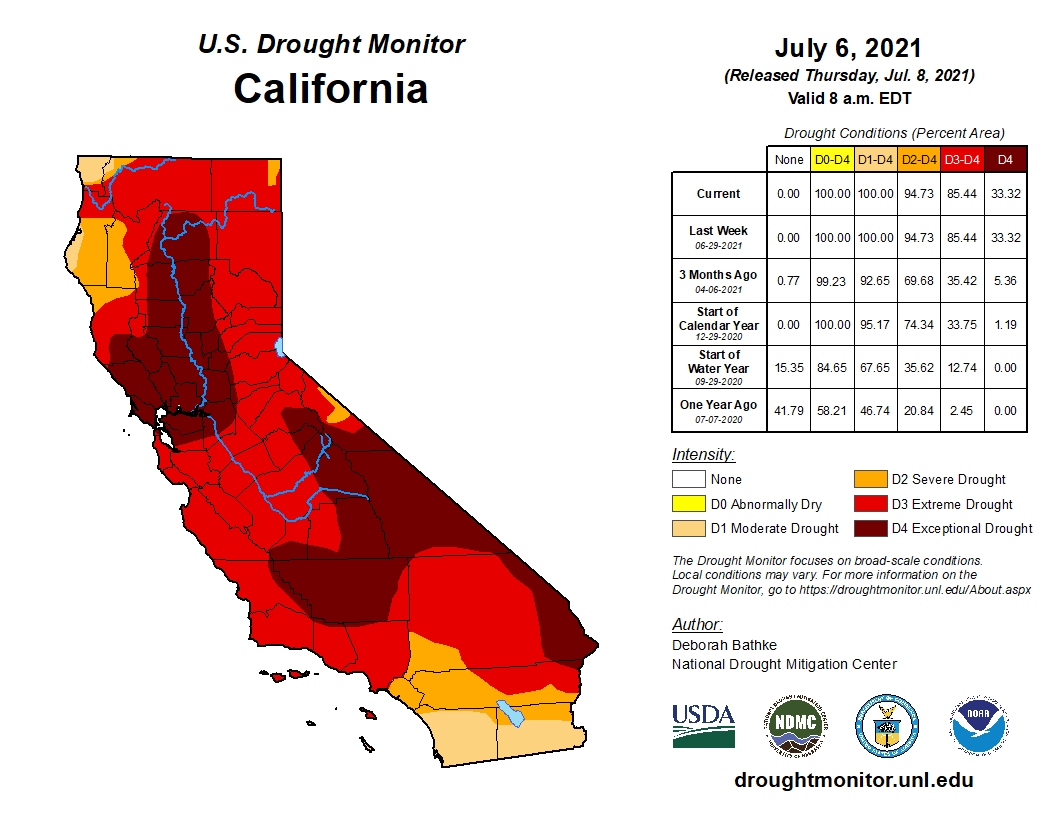 First, of course, are drought conditions. The US Drought Monitor looks at precipitation, streamflow, and soil moisture to measure drought. Right now, it shows us that 100% of the state is in a drought, with 33% in exceptional drought — the worst category.  
The second important indicator to look at is water storage — for example, how full are our reservoirs? This helps us gauge how prepared we are for prolonged dry conditions. Groundwater storage is also a good indicator to look at, but it is more dispersed and water level data isn't as readily updated and available.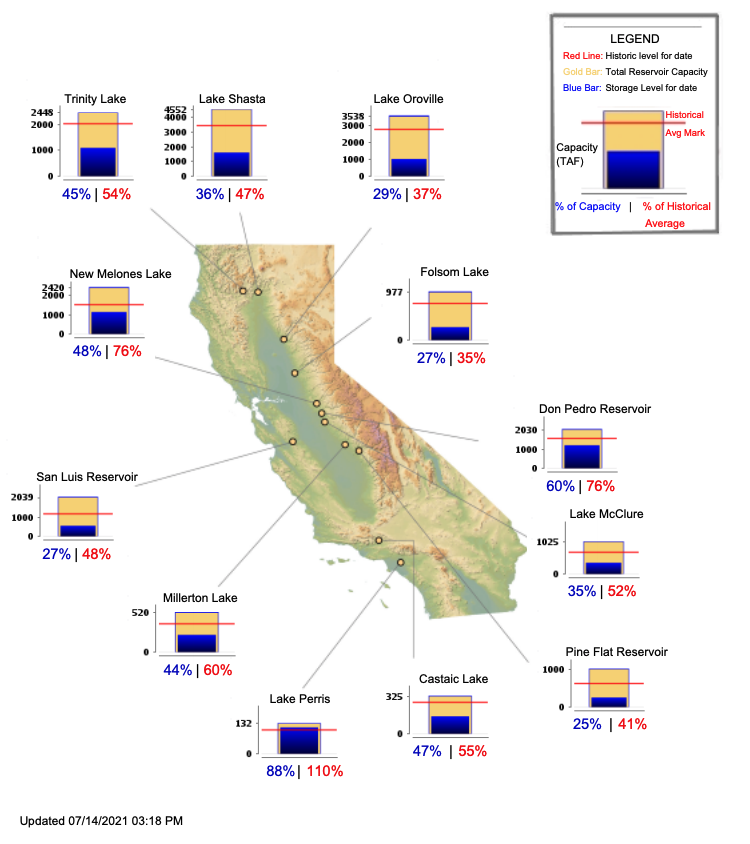 Third, it helps to understand what regions have already done to save water, like increasing water efficiency and water reuse, because the areas that have already saved a lot are usually better equipped for drought. For example, during the last drought California cities were asked to reduce water use by 25% to meet Governor Brown's conservation mandate, and those savings help cities facing drought now.  
By looking at those three metrics, we can get a sense of which regions are likely to be hardest-hit and which regions might fare okay.  
What Do Water Shortage Conditions Look Like Across California?
So far, we are seeing northern California, particularly the Sacramento River watershed between Sacramento and Redding and the Russian River watershed on the North Coast, facing some of the worst water shortage risk, with exceptional drought conditions and reservoirs less than half full. In the Sacramento River, and the Klamath River further north, we see perilously low reservoir levels and river flows affecting fish and farmers alike. The same is true for much of the San Joaquin Valley in the center of the state, which is the heart of California agriculture. This region has also seen significant cuts to imported water supplies that usually are delivered through the State Water Project and federal Central Valley Project, plus a legacy of groundwater depletion that is catching up to water users.  
In contrast, we see the urban South Coast of California, from Los Angeles to San Diego, facing milder drought conditions and fuller reservoirs. We also know there have been more concerted water conservation, efficiency, and reuse efforts in the south than in the north. Looking at the San Francisco Bay Area, we see a mix — good historic investments in efficiency and reuse, decent reservoir levels, but exceptional drought conditions. These two regions — urban southern California and the Bay Area — are among the few counties that have not yet seen official drought declarations by the State.  
Water is a very local resource, and every region has different water supplies and water demands. But, despite those regional nuances, we all need to be doing our part to conserve water and prepare for extended drought. If you want to look up water shortage conditions in your region of California, the Pacific Institute maintains www.californiadrought.org, where you can find up-to-date drought conditions and reservoir levels, look at your city's water use, and learn more about how California can better prepare for droughts before we're in one.