Meet Our Staff: Sarah Diringer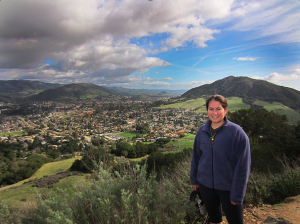 Sarah Diringer's fascination with water began at a young age while camping and traveling with her family. She recalls that when filtering water from a stream, her dad told her "it's what you can't see in the water that can hurt you." This revelation puzzled Sarah as a child, and informed her later explorations into invisible pollutants and environmental engineering. "Access to clean water and a sustainable ecosystem are fundamental human needs and yet supremely complicated to ensure," she explains. "The challenge keeps me inspired to search for effective solutions."
As an undergraduate student studying Environmental Science at the University of California, Los Angeles, Sarah focused on atmospheric and oceanic sciences. A highlight of her undergraduate career was conducting research in a biochemistry lab, collecting water samples from Santa Monica Bay in Los Angeles. In the lab, she analyzed these samples for their silica content as part of a study on coastal phytoplankton cycling and its implication for atmospheric carbon sequestration. This research showed that phytoplankton can absorb a large amount of carbon in coastal waterways as they grow, but the carbon is released again as the phytoplankton are consumed by larger organisms.
Sarah continued to pursue her interest in water quality as a summer field technician for the California Water Quality Control Board, where she took environmental samples in urban, agricultural, and natural areas. "The long sampling days were both inspiring and exhausting as we navigated from beautiful state parks to politically volatile agricultural areas," she explains. "This experience taught me how to implement an effective, realistic monitoring program and how data are necessary for developing successful solutions." Working at the Water Board guided Sarah to a pragmatic view of environmental conservation: "Effective environmental solutions," she says, "are derived from the cooperation of stakeholders in many disciplines."
In 2016, Sarah completed her Ph.D. in Civil and Environmental Engineering at Duke University. "I went into environmental engineering because I wanted to learn more about how environmental and human systems interact," she explains. Her dissertation allowed her to explore this theme through field work in the Peruvian Amazon. "My dissertation research focused on the impacts of artisanal and small-scale gold mining on mercury cycling in the Peruvian Amazon," she says. "As part of the mining process in this region, mercury is used to extract gold and is then disposed of in the environment. This form of mining is the largest source of mercury in the atmosphere globally." Sarah worked with a team of engineers, scientists, statisticians, and global health experts to examine both the environmental and human health impacts of these practices in Peru.
Sarah's research along 600 km of the Madre de Dios River in Peru was the first systematic environmental study on mercury in the region. After her team reported results to local communities, Sarah had the opportunity to present the research in Spanish at the first Forum on Mercury and Public Health, hosted in Madre de Dios. "Because of this research," says Sarah, "communities in the region are now focusing on mitigating dietary mercury exposure."
As a senior research associate at the Pacific Institute, Sarah's work focuses on finding solutions to ensure sustainable water access and healthy ecosystems. Sarah explains that working at the Institute provides an opportunity to continue working with motivated and smart researchers on tangible and data-driven solutions to the world's biggest water challenges. "I like diving into new systems and understanding how the different pieces connect and interact," she says. "Whether it's how mining impacts mercury cycling in the Amazon or how choices between desalination and water reuse affect energy demand and recreational opportunities, unraveling the complexity of contemporary water issues is a challenging puzzle with real-world implications that inspires me to continue searching for viable solutions."
Sarah's current work focuses on improving methods for water demand forecasting by utilities and systematically accounting for the multiple benefits provided by many water management systems.
In her spare time, she plays trombone in the Walnut Creek Concert Band and likes to compete in triathlons. Sarah says she can be found most weekends hiking or biking in the East Bay and playing board games with friends.