Meet Our Staff: Terry Asbury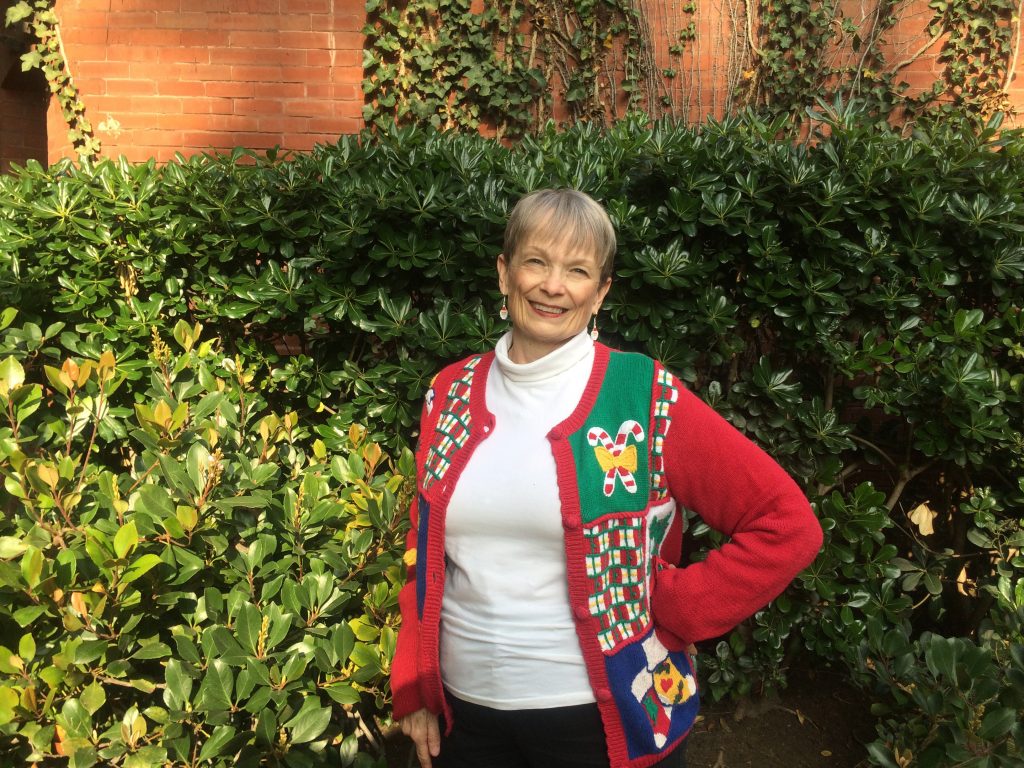 After more than nine years at the Pacific Institute, Terry Asbury still remembers her initial interview. "I was really excited when they asked me if I had a passport," she recalls, "But the most I ended up traveling for the Institute was moving my desk from downstairs to upstairs and back down again!" After nearly a decade serving the Institute, at the end of this month Terry will embrace retirement, a bittersweet transition for her colleagues at the Institute's home office in Oakland.
"I sincerely hope Terry and her husband Carl will deeply enjoy their well-earned retirement years, but she will be sorely missed here at the Institute!" said Pacific Institute President Jason Morrison. "In her role as Office Manager, Terry was not only able to keep the Institute functioning smoothly and efficiently, but just as important, in her capacity as 'Chief Social Officer' she's been the connecting force that's spurred staff cohesion and a sense of organizational culture. It'll be a big lift to collectively carry this torch without her!"
Terry began her career at the Pacific Institute as Executive Assistant to both Peter Gleick and Jason Morrison after a long career in the financial sector. She recalls that in her initial interview, she was impressed by the shared values and commitment of Jason and Peter. "I never knew there were such kind, concerned, and focused people in the world," she says. "It was a big contrast to my experience working in finance, which can be very cutthroat."
Later, Terry's position expanded to also include Office Manager. Terry embraced the challenge of reporting to three bosses, earning the nickname "CMO," which stands for "Chief Morale Officer."  Always smiling, sometimes singing a little too loudly in her office, over the years Terry arranged a plethora of office parties and meetings, going above and beyond to make the events she organized fun and engaging. She also has a penchant for seasonal office decoration. "I guess it runs in my family," she says, "My daughter was recently rewarded for having the best decorated cubicle in her office!"
Outside of the office, Terry's hobbies range from singing to supporting charities around the world through her participation in her local chapter of Dining for Women. "I grew up in a very musical family," she explains. "My mother sang and played the guitar, dad played the saxophone, and my brother hummed along to music constantly. I followed in my mother's footsteps."  Terry was the vocalist in her dad's big band dance band from the age of 10 until her high school graduation. "Forty-eight years later, I'm still remembered at Saint Elizabeth High School in Oakland for my reprisal of the leading role of Oliver in 'Oliver,'" she says.  Terry is the "Queen" of her chapter of the Red Hat Society, a group of a million women around the world who get together each month just to have fun. She also volunteers at the Bankhead Theater, the local performing arts theater in Livermore, where she lives with her husband of 44 years and daughter Jennifer.
Terry's future plans include traveling with her husband Carl and, she says, "Organizing my own life instead of everyone else's." She says she will not miss her commute from Livermore to Oakland during the week but she will miss "the wonderful and bright individuals I've worked with these past nine years."
Pacific Institute President Emeritus Dr. Peter Gleick said the Institute won't be the same without Terry. "It has been an utter delight working with Terry, but the reality is that one doesn't 'work' with her, one becomes a part of her family," he said. "Never a harsh word. Never a bad mood. Always deep loyalty to the institution and our people. As the famous song says: you don't know what you've got 'til it's gone. But I know what we're losing. Thank you Terry!"