Violence over Water Increases Globally According to New Data from Pacific Institute Water Conflict Chronology
A large number of new cases result from the Russia-Ukraine War, growing tensions in the Middle East, and ongoing conflict in Sub-Saharan Africa
Oakland, California, November 15, 2023 – The Pacific Institute, a global water think tank, today released a major update to its Water Conflict Chronology, adding over 350 new instances of conflicts associated with water resources and water systems identified from news reports, eyewitness accounts, and other conflict databases. The Water Conflict Chronology, created by the Pacific Institute during the 1980s, is the world's most comprehensive open-source database on water-related violence. The database includes verified instances where water or water systems have been a trigger, weapon, or target or casualty of violence.
With today's update, the Water Conflict Chronology now includes over 1,630 cases and shows a clear worsening trend of water-related violence during recent decades. The database shows 228 incidents in 2022 and 117 incidents between January and June of 2023.
The new cases reflect an increase in the past two years in intentional attacks on civilian water systems in the ongoing violence in the Russia-Ukraine War and in the Middle East, including in Gaza and the West Bank, as well as Yemen, Syria, Iraq, and Israel. Also notable is the ongoing violence in parts of Sub-Saharan Africa, especially Burkina Faso, Mali, Ethiopia, Nigeria, Somalia, and Kenya, where traditional herders and farmers continue to compete for scarce water resources, and South Africa where unrest over the failure to provide safe water and sanitation is growing.
"Violence over water resources has notably increased during the past 20 years with a spike starting in 2022. Far more must be done to develop and implement strategies to move toward cooperation and peaceful sharing," said Peter Gleick, Co-Founder and Senior Fellow of the Pacific Institute. "The extensive attacks on dams and water delivery systems in Ukraine have contributed to the recent dramatic increase in water-related violence. We also see a worrying increase in violence associated with water scarcity worsened by drought, climate disruptions, growing populations, and competition for water."
"Protecting civilian water infrastructure and resources and developing water-governance structures that are just and equitable are necessary for both peacebuilding and peacekeeping," said Morgan Shimabuku, Senior Researcher at the Pacific Institute. "Water can be part of the solution, and in many places, it is a critical part."
Each event in the Water Conflict Chronology database is identified by date, location, category (trigger, weapon, or casualty), short description, and verifying citation or source. Figure 1 shows the overall increase in the number of events in the Water Conflict Chronology between 2000 and 2023. Notably, the data shown for 2023 reflect events for the first six months of the year. Figure 2 shows the number of events per year by type (water as a weapon, casualty, or trigger) of conflict, with a significant increase in attacks on water systems ("casualty") in recent years.
The Pacific Institute's work on water and conflict is focused on identifying and understanding the risks of water-related violence, but also identifying strategies for reducing these risks, including technical and engineering solutions to improve access and efficient use of water, the application of political and legal tools to protect civilian water systems, and new economic approaches to address inequities in freshwater availability and affordability.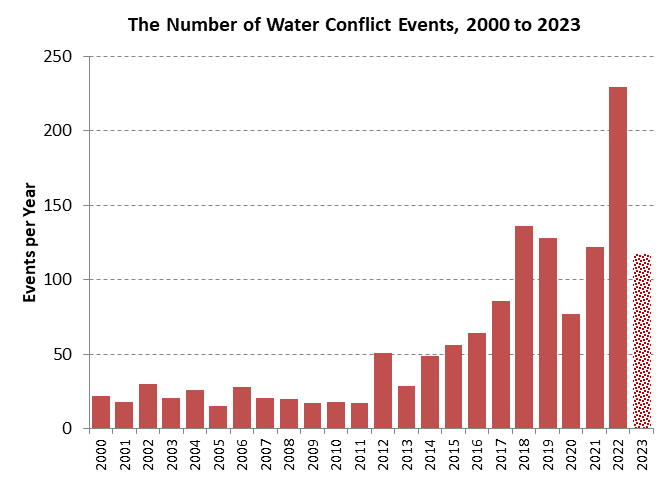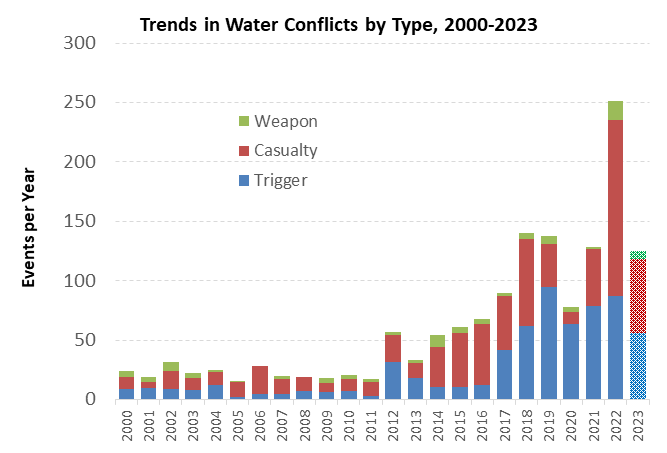 ###
For more information, contact Dr. Peter Gleick, Co-Founder and Senior Fellow of the Pacific Institute, at pgleick@pacinst.org or Dr. Amanda Bielawski, Director of Communications and Outreach of the Pacific Institute, at abielawski@pacinst.org.
Founded in 1987, the Pacific Institute is a global water think tank that combines science-based thought leadership with active outreach to influence local, national, and international efforts in developing sustainable water policies. From working with Fortune 500 companies to frontline communities, our mission is to create and advance solutions to the world's most pressing water challenges. Since 2009, the Pacific Institute has also acted as co-secretariat for the CEO Water Mandate, a global commitment platform that mobilizes a critical mass of business leaders to address global water challenges through corporate water stewardship. For more information, visit pacinst.org.