Pacific Institute Sea Level Rise Hazard Maps
Index maps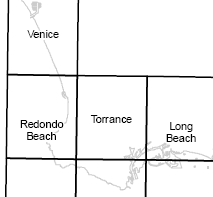 Use these maps to locate your quadrangle of interest. The map extents match those of the well-known USGS 7.5-minute topographic map series.
About
These maps were prepared by researchers at the Pacific Institute, with support from the California Energy Commission, California Department of Transportation, and the Ocean Protection Council.
This information is being made available for informational purposes only. Users of this information agree by their use to hold blameless the State of California, and its respective officers, employees, agents, contractors, and subcontractors for any liability associated with its use in any form. This work shall not be used to assess actual coastal hazards, insurance requirements, or property values and specifically shall not be used in lieu of Flood Insurance Studies and Flood Insurance Rate Maps issued by the Federal Emergency Management Agency (FEMA).
March 19 Update: We have updated the hazard maps with a slightly larger 22"x30" version, to eliminate slight north-south gaps in the orinal map series. The new maps are also higher-resolution (300 dpi) and have smaller files sizes (0.5 - 3 MB).
Quadrangle List
Ah Pah Ridge
Albion
Año Nuevo
Antioch North
Arcata North
Arcata South
Arched Rock
Bear Harbor OE W
Bear Harbor
Benicia
Beverly Hills
Big Sur
Bodega Head
Bolinas
Burro Mountain
Camarillo
Cambria
Camp Meeker
Cannibal Island
Cape Mendocino
Cape San Martin OE W
Cape San Martin
Capetown
Carpinteria
Casmalia OE W
Casmalia
Cayucos OE W
Cayucos
Childs Hill
Cooskie Creek
Cordelia
Crannell
Crescent City OE W
Crescent City
Cuttings Wharf
Dana Point
Davenport
Del Mar OE W
Del Mar
Denverton
Dos Pueblos Canyon
Double Point
Drakes Bay OE S
Drakes Bay OE SW
Drakes Bay OE W
Drakes Bay
Duncans Mills
Dutchmans Knoll
Elk
Encinitas
Eureka
Fairfield South
Fern Canyon
Ferndale OE W
Ferndale
Fields Landing
Fort Bragg
Fort Ross
Fortuna
Franklin Point
Gaviota
Goleta
Gualala
Hales Grove
Half Moon Bay
Hayward
Hiouchi
Honker Bay
Hunters Point
Imperial Beach OE W
Imperial Beach
Inglenook
Inverness
Klamath Glen
La Honda
La Jolla OE W
La Jolla
Laguna Beach
Las Pulgas Canyon
Lompoc Hills
Long Beach OE S
Long Beach
Lopez Point OE W
Lopez Point
Los Alamitos
Malibu
Mallo Pass Creek
Mare Island
Marina
Mathison Peak
McGuire Ridge
Mendocino
Milpitas
Mistake Point
Montara Mountain OE W
Montara Mountain
Monterey OE N
Monterey
Morro Bay North
Morro Bay South OE W
Morro Bay South
Moss Landing
Mountain View
Napa
National City
Newark
Newport Beach OE S
Newport Beach
Niles
Novato
Noyo Hill
Oakland East
Oakland West
Oceano OE W
Oceano
Oceanside
Orick
Oxnard OE W
Oxnard
Palo Alto
Partington Ridge
Petaluma Point
Petaluma
Petaluma River
Petrolia
Pfeiffer Point
Pico Creek
Piedras Blancas
Pigeon Point
Pismo Beach
Pitas Point
Plantation OE W
Plantation
Point Arena
Point Arguello
Point Bonita
Point Conception
Point Dume
Point Loma OE W
Point Loma
Point Mugu OE W
Point Mugu
Point Reyes NE
Point Sal
Point Sur
Port San Luis OE W
Port San Luis
Prunedale
Rancho Santa Fe
Redondo Beach OE S
Redondo Beach
Redwood Point
Requa
Richmond
Rodgers Peak
Sacate
Salinas
San Clemente
San Francisco North
San Francisco South OE W
San Francisco South
San Gregorio
San Juan Capistrano
San Leandro
San Luis Rey
San Mateo
San Onofre Bluff
San Pedro
San Quentin
San Rafael
San Simeon
Santa Barbara
Santa Cruz OE W
Santa Cruz
Saunders Reef
Seal Beach
Sears Point
Seaside
Shelter Cove
Shubrick Peak OE S
Shubrick Peak
Sister Rocks
Smith River
Soberanes Point
Sonoma
Soquel
Stewarts Point OE W
Stewarts Point
Surf OE W
Surf
Tajiguas
Tomales
Topanga
Torrance
Tranquillon Mountain
Trinidad OE N
Trinidad
Triunfo Pass
Tustin
Tyee City
Valley Ford
Venice
Ventura
Villa Creek
Vine Hill
Walnut Creek
Watsonville East
Watsonville West
Westport
White Ledge Peak