San Francisco Bay Area Drought and Equity Summit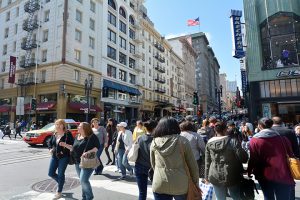 On Tuesday, July 26, the Pacific Institute partnered with The Environmental Justice Coalition for Water (EJCW) and eight community groups to host the San Francisco Bay Area Drought and Equity Summit in Oakland. The summit brought together 60 water managers, local government officials, community groups, and others to discuss the drought's impacts on low-income residents and strategies to mitigate those impacts.
Colin Bailey, Executive Director of EJCW, and Pacific Institute Water Program Director Heather Cooley opened the summit by sharing highlights of findings from the recently-released report Drought and Equity in the San Francisco Bay Area. Community partners and report co-authors Tameeka Bennett of Youth United for Community Action, Terrie Green of ShoreUpMarin, and Charles Taylor of the Alviso Water Collaborative provided their perspectives on water concerns in their communities, including the rising cost of water and aging infrastructure. The second panel included representatives from public and private Bay Area water utilities who described some of the programs they offer to low-income residents, such as rate assistance programs, which could be implemented elsewhere.
In the afternoon, the group divided into three breakout sessions focused on rates and billing practices, low-income assistance programs, and community engagement. The brainstorming sessions focused on opportunities to expand programs for low-income water users and discussed potential barriers to this programs. Proposition 218, which constrains the ability of water agencies to provide "Lifeline Rates" and other services to low-income residents, was highlighted by many participants as a key barrier to implementing assistance programs.
The day was concluded with a lightning round in which participants shared what they learned and what actions they could take to assist low-income residents. The Pacific Institute will continue to work with these groups and others to turn the ideas generated at the Summit into action.