West Oakland Environmental Indicators Project: Ground Level Monitoring of Particulate Matter in West Oakalnd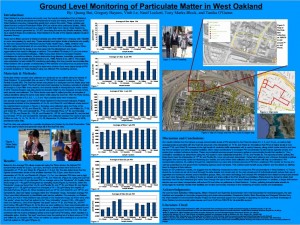 Youth participants from the West Oakland Environmental Indicators Project (WOEIP) presented a poster at the Fall 2010 American Geophysical Union Meeting on December 17, 2010. Quang Bui, Gregory Haynes, Vinh Le, Nasif Lockett, Tony Marks-Block, and Tanika O'Guinn collected and analyzed air samples from different areas in West Oakland to test the air quality of their neighborhood. Using Their results found that areas with higher levels of vehicular traffic were associated with higher levels of particulate matter (PM) in the air.
The researchers were able to locate sources of PM that a stationary PM monitor on the top of a roof (as prescribed by the government monitoring agency) could not locate. Their methods could benefit young children and the elderly by alerting
them to triggers of their asthma.
View the poster presented at the AGU meeting.
Read the East Bay Express Article on this project here.