Drought and Equity in California
Published: January 9, 2017
Authors: Laura Feinstein, Rapichan Phurisamban, Amanda Ford, Christine Tyler, and Ayana Crawford
Pages: 80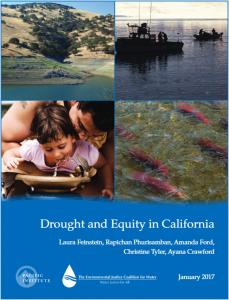 Drought and Equity in California is the first statewide analysis of the impacts of California's five-year (2012-2016) drought on California's most vulnerable communities. This report provides information community groups can use to advocate for their own interests, as well as to inform policymakers and other decision-makers interested in crafting more effective drought response strategies, particularly to address the needs of the state's most vulnerable communities.
The report finds that during the state's five-year drought, water shortages and price hikes affected access to safe, affordable water for Californians, with substantial impacts on low-income families and communities burdened with environmental pollution. The report also examines the effects of a rapidly declining salmon population on commercial and tribal fishermen and finds that the decline and variability of salmon populations during droughts has impacted those dependent on the fish for income, food, and cultural traditions.
Disadvantaged communities (those with a medium household income of less than 80 percent of the state median) and cumulatively burdened communities (those that rank in the top quarter of census tracts in the state for environmental burdens and socio-economic vulnerability) were highly affected by water shortages. Drought-impacted public water systems were widespread, with at least one found in 39 of the state's 58 counties, but were concentrated in the San Joaquin Valley, the North Coast, and the Central Coast. Of the 92 drought-impacted water systems examined, two-thirds served a disadvantaged community, and nearly one-third served a cumulatively-burdened community. Dry household wells were also a major problem for vulnerable communities. In Tulare County, for example, two-thirds of the approximately 1,600 reported dry wells were in a disadvantaged community, and nearly 90% were in a cumulatively burdened community.
View a map of household water shortages in Tulare county here.
The report also found drought charges exacerbated affordability concerns for low-income households. Many utilities use a model for drought charges that raises costs for low-income, low-water users that already pay more than they can afford for their basic water needs. The effect of these charges was most extreme for families earning less than $10,000, raising costs from 4.4% to 5.3% of household income. These households have little or no disposable income, and any increase in water costs poses a major challenge.
Says co-author Laura Feinstein: "Water supply shortages during the drought affected some of the most vulnerable populations in the state. Not all Californians have equal access to water, and those with the fewest financial resources faced the greatest problems during the drought."
The drought exacerbated long-term declines in salmon populations in the Sacramento and Klamath Rivers. For centuries, Native Americans in California and the Pacific Northwest have relied on salmon not only as a source of sustenance, but also as an integral part of their spiritual and cultural traditions. The dwindling salmon population represents a loss of both physical and spiritual sustenance. For commercial fishermen, the drought worsened conditions for the salmon fishing fleet, which has declined by 80% since 1982.
Addressing the underlying inequities in how the state's water resources are managed is all the more urgent because droughts are becoming longer, more frequent, and more severe due to climate change.
The report provides a list of recommendations for mitigating impacts of future droughts on these communities, including:
Establishing a statewide quantitative metric for measuring water supply reliability for water systems;
Identifying areas where water system consolidation can resolve supply problems;
Ensuring drought surcharges are not applied to basic water use, preferably by calculating household water budgets based on household size;
Targeting water conservation and efficiency programs to low-income households by offering, for example, point-of-sale coupons, targeted education and outreach, and direct-install programs;
Expanding the goals of emergency drought responses beyond preserving endangered species to include protection of commercially-fished salmon species;
Providing income assistance and insurance protection for fishing communities during drought emergencies; and
Creating mechanisms for meaningful and timely tribal engagement with local, regional, state, and federal agencies.
Read the Executive Summary here.
Read the Full Report here.
Appendixes:
Appendix 1A, Data Sources for Section 1: Drought and Domestic Water Shortages
Appendix 1B, Spreadsheet: Drought-Impacted Public Water Systems
Appendix 1C, Spreadsheet: State Reports of Household Outages, Aug 8 2016
Appendix 2A, Spreadsheet: Drought Charges
Appendix 2B, Spreadsheet: Affordability Analysis
Appendix 3A, Tribal Salmon Fishery Data