Meet Our Board: Peter Boyer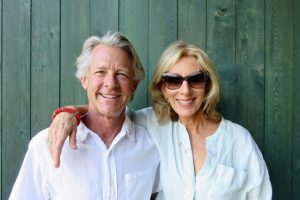 Peter Boyer's career as a mixed-media artist was at its peak in 1995, with his work appearing in 15 group shows and a solo show the previous year. While working in his studio one day, he had a strong realization that he needed to make a change in his life. "I said to myself, 'I need to get more involved in my community.' It was a conscious decision."
So began more than two decades of service and support of nonprofit organizations that reflect his interest in solving problems through collaboration and innovation. He said he avoids nonprofits that operate with "conventional or fringe thinking. I'm interested in effective and innovative thinking."
As he learned about the Pacific Institute, he recognized these qualities. "What attracted me to the Pacific Institute is its preparation to deal with a variety of people, regardless of partisanship. The Institute is uniquely positioned because it is strictly nonpartisan – it has intellectual independence and it brings a high level of scientific rigor to its work." Peter was hooked, joining the Institute's board in 2011. "I found exactly the kind of organization I had been seeking."
Peter is particularly interested in the energy and water nexus, and as a member of our board his understanding of the economic, political, and environmental ramifications of the energy-water nexus has deepened. Observing the Pacific Institute advance solutions to cope with the California drought, which began around when he joined the board, Peter says he is reminded of what he appreciates about the Institute's approach to solving pressing water problems. And, he says, being on the board is fun: "Everyone is accomplished and busy, but it is familial and collegial."
The Institute's long history of gathering together diverse stakeholders to find common ground for sustainable solutions is aligned with Peter and his wife Terry's philanthropic philosophy. "The nonprofit world sometimes works in silos. I love to convene people and create cross-over relationships," Peter explains. To some extent, he and Terry share similarities with angel investors for technology companies. "Terry and I seed projects that go on to become much bigger. We like to take early risks."
Even with Peter's active service – he sits on several boards of directors and advisory boards – he still makes time for his art. He enjoys using many materials, including linen, muslin, charcoal, and graphite, to name just a few, for his multi-layered paintings. He has had exhibitions in many galleries across the country and also in Japan, and is preparing for a new show that will appear in the Don Soker Gallery in San Francisco next year.
And then there are the goats. He and Terry thoroughly enjoyed hosting 300 goats this past spring and summer on their 20 acres in Sonoma. The goats were part of a rotational grazing experiment, to "improve the variety of species and the health of native grasses." It was an "informal operation," Peter said, but one that had an impact – at the end of the project, he and Terry kept three of the goats as pets.
It's been more than two decades since Peter decided he would benefit from being more engaged in his community. And the Institute has benefited greatly from his decision.