For the latest updates about the California drought go to www.californiadrought.org

Read Previous Updates
Find all past drought
updates here.
Update on the California Drought – March 15, 2016
From the Pacific Institute California Drought Response Group
This week in… Rain, Reservoir Releases, and Restrictions
Reservoir operations in California typically follow specific rules to balance water demand, flood control, and other beneficial uses of water. Amid storms in early March, the Bureau of Reclamation began releasing water from Folsom Reservoir to prepare for potential floods. The dam is an important part of the Sacramento region's water resources management system, providing water to people, fish and wildlife, hydroelectric power generation, flood protection, and salinity-control requirements in the Bay-Delta. Water releases have increased from the initial 8,000 cubic feet per second (cfs) to about 20,000 cfs to accommodate inflows from Sierra runoff. Additional releases may be required based on actual and forecasted inflows into the reservoir.
Folsom reservoir's strict storage level of 60% of capacity in winter months has drawn criticism as these releases present a water shortage risk if spring precipitation is deficient. Several groups are calling for the Bureau to develop new reservoir operation rules, which integrate weather forecasts to help determine when and how much water to release.
Meanwhile, Senator Dianne Feinstein (D-Calif) is calling on the Bureau to increase pumping in the Sacramento-San Joaquin Delta, within bounds of the Biological Opinions, to capture water from recent storms and transport them to drought-stricken farms and cities in Central and Southern California. Subject to pumping restrictions under the Endangered Species Act, the federal agency determines water diversion activities in the Delta based on water quality, temperature, recent fish counts and location relative to the pumps, among other factors. 
In other news…
California Drought Status
Drought Monitor
Drought conditions significantly improved over the last two weeks. Areas under exceptional and extreme drought conditions have shrunk to about 61% of the state. Storms had shifted southward, bringing rain to all of California except the southeastern tip of the state.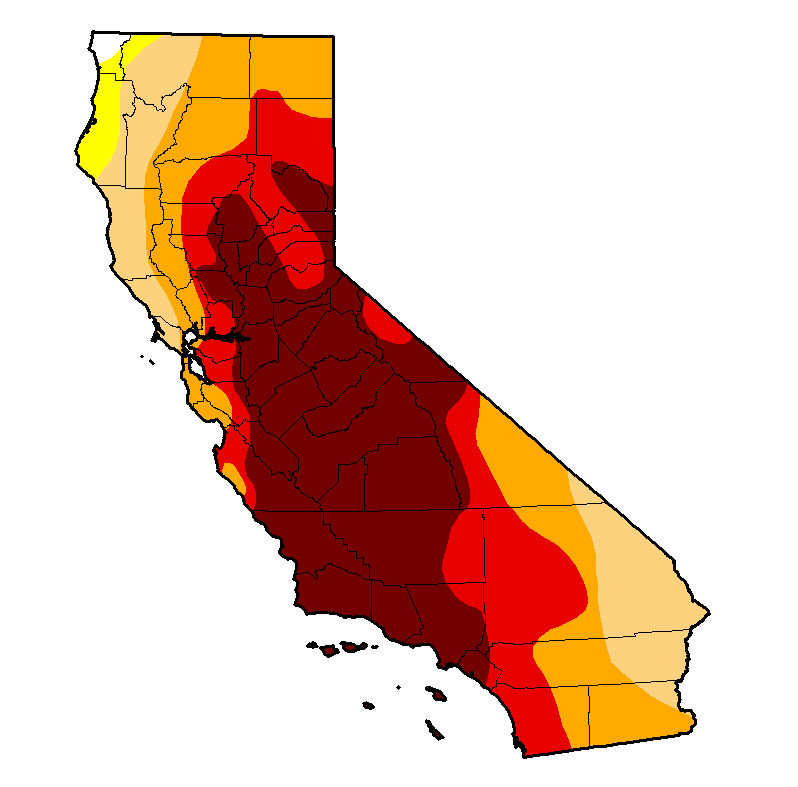 Precipitation
California experienced a rapid transition from record warmth and dryness in February to a very wet March. However, it is unclear what the remainder of the month will look like.   
Snow-water content is at 92% of normal for this date, as of March 15 (see these snowpack plots for changes over time).
Cumulative precipitation in the Northern Sierra and San Joaquin regions is above long-term averages, while it is about average in the Tulare basin.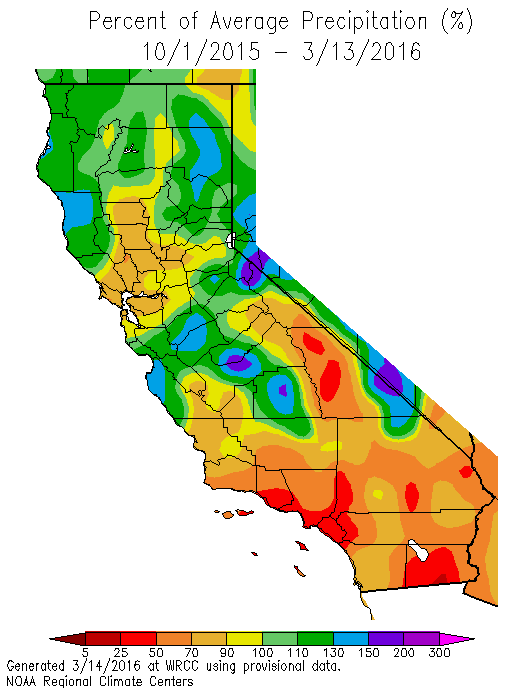 Reservoir Conditions
Water levels in California's major reservoirs (representing 27.3 million acre-feet of storage) have significantly improved to 52% of statewide capacity, compared to 42% two weeks ago. Levels are considerably higher than last year, but represent only 81% of group average. Major reservoirs, such as Lake Oroville, Shasta, and Folsom, are now at 101%, 106%, and 120% of historical average, respectively.
A new interactive tool, by KQED News, shows changes in reservoirs' storage levels since January 2010. Click here to use this tool.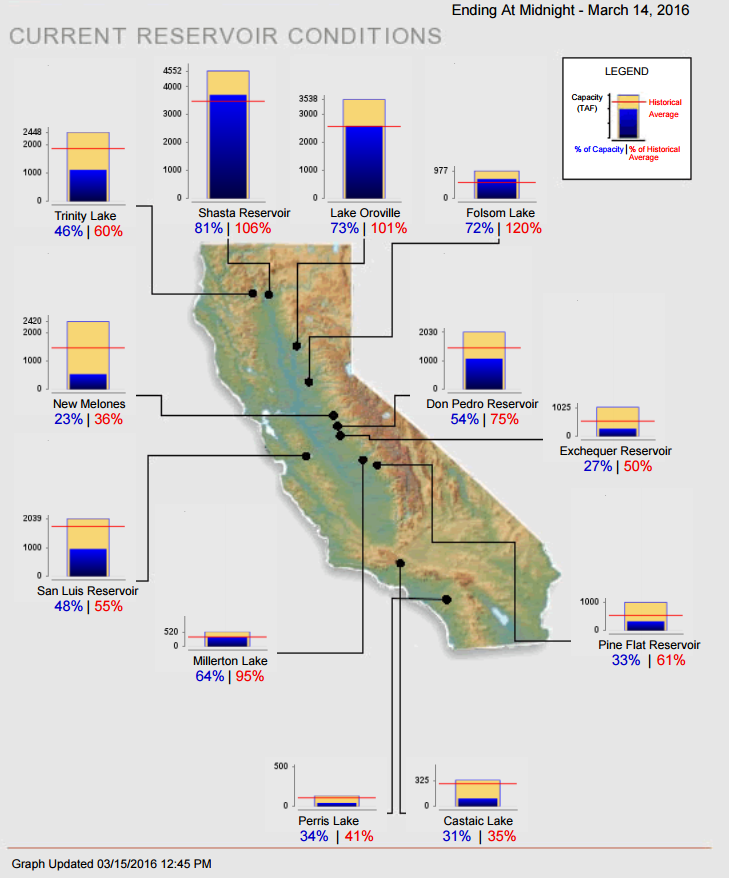 Groundwater Conditions
DWR recently published a map of groundwater level changes from fall 2011 to fall 2015. Areas with the greatest concern, i.e., those areas where groundwater levels have declined by more than 100 feet, can be found in parts of the Tulare Lake, South Coast, and Colorado River hydrologic regions.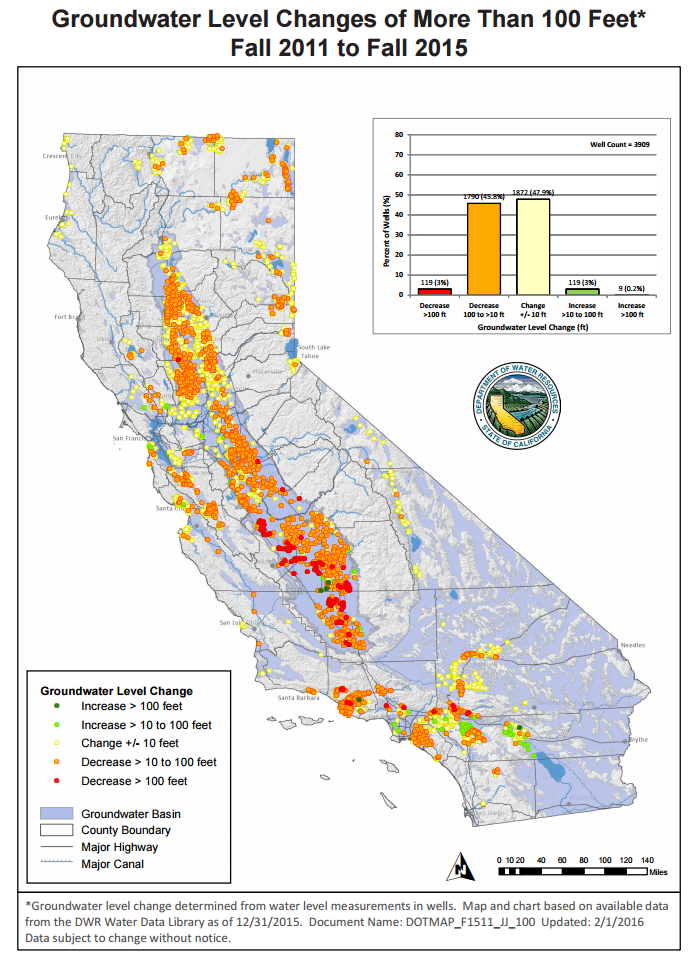 Hydropower
Hydropower generation in 2015 was about 13,700 GWh, 60% lower than the 2001-2011 average and 40% lower than the 2012-2014 drought-year average.