For the latest updates about the California drought go to www.californiadrought.org. 
Read Previous Updates
Find all past drought
updates here.
This week in… Sinking Earth
Four years of drought and groundwater overdraft are causing the earth to sink faster in Central Valley, one of the nation's prime agricultural lands. Recent damage in the lining of the Delta Mendota Canal, which delivers irrigation water to Central Valley Project contractors, is among many signs that land subsidence is worsening due to the area's rapid decline in groundwater levels. New data from NASA's Jet Propulsion Laboratory indicates than land near Corcoran in the Tulare basin has already sunk 13 inches in eight months, and one area in the Sacramento Valley was sinking at a faster rate (0.5 in. /month) than previous measurements indicated.
While subsidence may have multiple causes (e.g., drainage of organic soils for agriculture leads to compaction and sinking), the most common is from over-pumping of groundwater. Subsidence occurs throughout California and it can increase the risk of flooding and damage pipelines, roads, and canals, for example.
Past spending on infrastructure repairs due to subsidence was estimated at $1.3 billion. New repairs are expected to cost at least as much. As the sunken land cannot move upward even when groundwater levels are restored, the best way to address subsidence is to prevent the ground from falling further by recharging aquifers and tapping into alternative water supplies, such as through conservation and water reuse.
In other news…
California Drought Status
Drought Monitor
As of December 29, drought conditions continue to improve with 10% of the state now under moderate drought conditions, an increase from 6.7% two weeks ago. However, about 45% of the state still experiences exceptional drought conditions.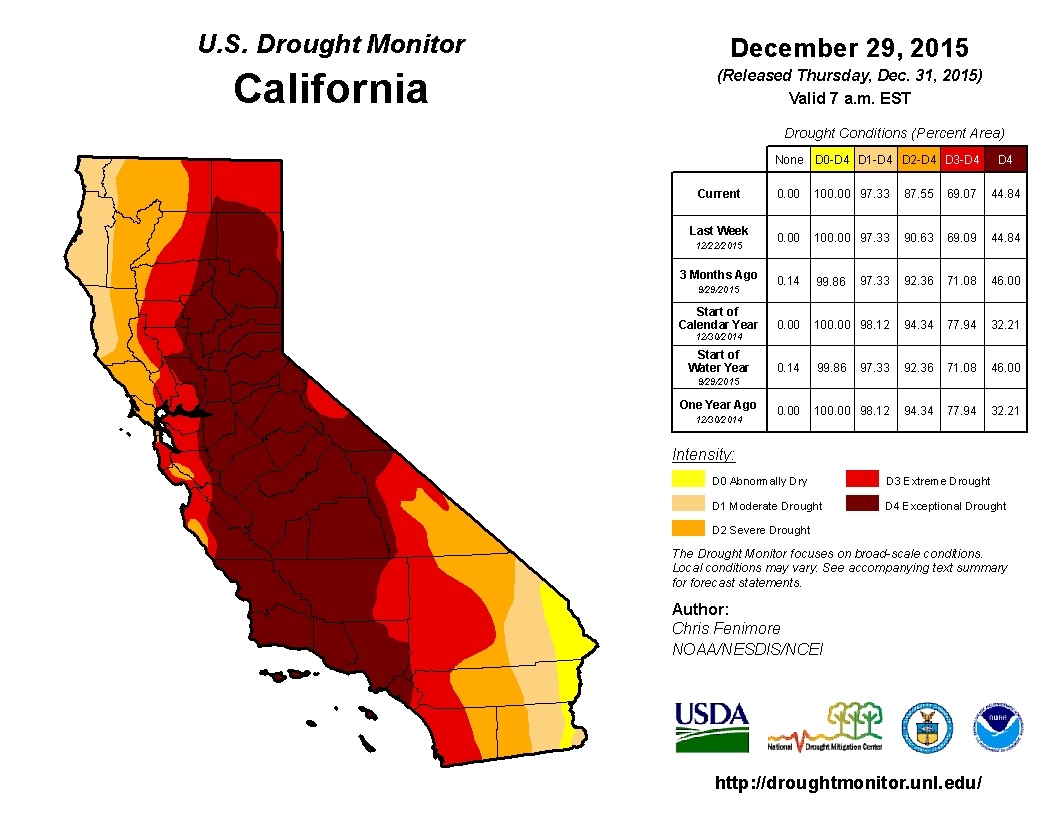 Precipitation
Statewide snow-water equivalent average has increased to 10.2" or 105% of normal, as of December 30. Central Sierra experiences above-normal snow-water depth at 116% of normal average, while it is 86% for Southern Sierra.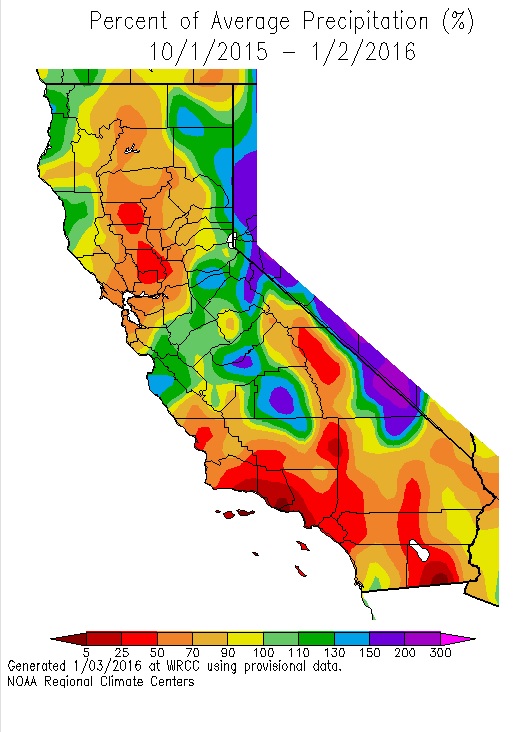 Reservoir Conditions
Water levels in California's major reservoirs (representing 27.3 million acre-feet of storage) have increased slightly from 24% to 25% of statewide capacity and from 43% to 45% of group historical average. Current levels are about 70% of what they were last year.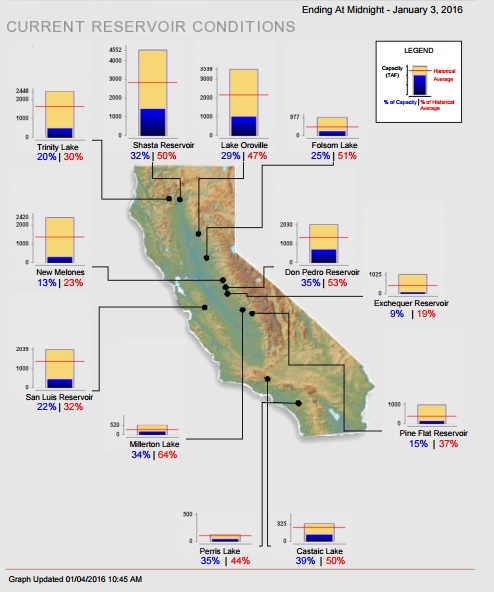 Hydropower
Hydroelectric power generation in October this year was 8% lower than in 2014, but 53% lower than the 2001-2011 October average.