For the latest updates about the California drought go to www.californiadrought.org

Read Previous Updates
Find all past drought
updates here.
This week in… Budgeting for Water Woes and the Updated Water Action Plan
Since the declaration of the drought emergency in January 2014, the State of California has worked to appropriate $3.7 billion to assist drought-impacted communities, provide additional resources for critical water infrastructure projects, and respond to drought-related wildlife emergencies. Governor Brown's proposed 2016/17 state budget would provide an additional $323.1 million on a one-time basis to continue emergency response to the drought. The budget includes $68.5 million for protecting water supplies, such as emergency salinity barriers and emergency drinking water projects; $95 million for water conservation, such as appliance rebates and education programs; and $159.7 million for emergency response, such as food assistance and fire protection.
Aside for the drought measures, the proposed budget includes funding for implementing the California Water Action Plan, a five-year roadmap for sustainable water management. Notable funding increases include $385 million to support projects that meet the state's commitments under the Klamath Agreements ($250 million), the Central Valley Project Improvement Act ($90 million), and the San Joaquin River Settlements ($45 million). An additional $80 million would go toward Salton Sea Restoration for dust suppression and expansion of migratory bird habitat. The Salton Sea is an important ecological hotspot, with hundreds of thousands of resident and migratory birds each year, and the funding would help to complete two plans to address health and environmental consequences of the lake's decline, which is expected to accelerate in 2018 when water deliveries by the Imperial Irrigation District to the saline lake will end.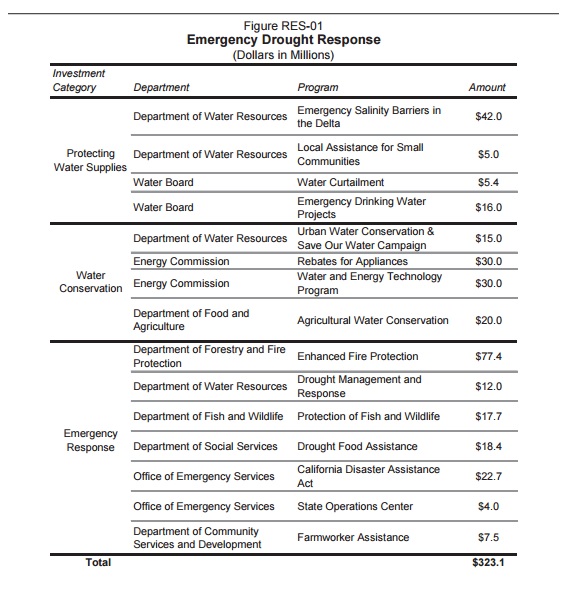 Following the release of the 2016/17 budget proposal, the state published its Water Action Plan 2016 Update to reflect the progress that took place since January 2014 as well as future activities. The Plan provides the foundation for Proposition 1, the 2014 water bond, and the administration's legislative agenda to work toward sustainable water management solutions. Commitment to making conservation a California way of life is emphasized through an expansion of agricultural and urban water conservation and efficiency measures to exceed SBX7 7 targets and a requirement for all agricultural water districts that supply water to 10,000 to 25,000 acres of irrigated lands to develop agricultural water management plans. The CA Water Action Plan also highlights the need to implement the controversial Delta Plan, which was bifurcated into the California WaterFix (water supply and delivery infrastructure initiative) and the California EcoRestore (habitat restoration and ecosystem improvement initiative). 
In other news…
California Drought Status
Drought Monitor
Exceptional drought conditions have improved by about 2.2 percentage points since last week, reducing the affected area to 42.66% of the entire state.
Precipitation
The statewide snow-water equivalent average has increased to 15.9", or about 111% of the normal average for January 19. Central Sierra experiences above-normal snow-water depth at 115% of the normal average, while it is 91% for the Southern Sierra. Snowpack's water content is far greater than one year ago. See here for interactive regional snowpack plots.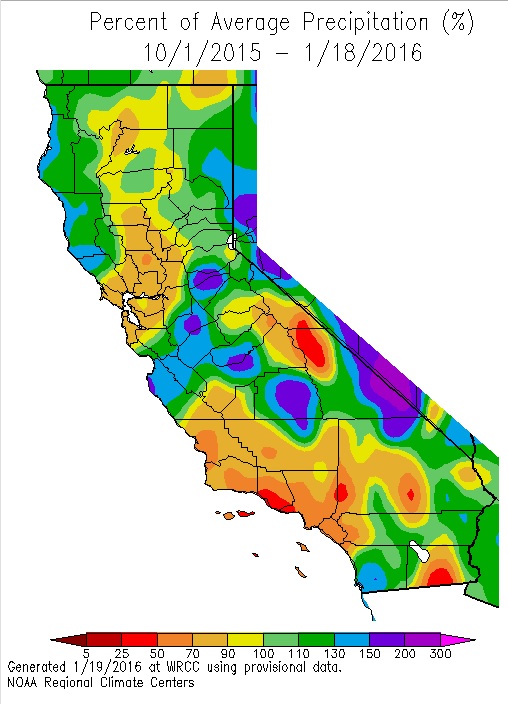 Reservoir Conditions
Water levels in California's major reservoirs (representing 27.3 million acre-feet of storage) are now at 30% of statewide capacity and about 50.17% of group historical average. Current levels are about 80% of what they were last year.