For the latest updates about the California drought go to www.californiadrought.org. 
Read Previous Updates
Find all past drought
updates here.
Happy New Year, everyone!
Because the vast majority of precipitation typically occurs in the fall and winter, October 1st marks the start of a new water year.
2015 was, as expected, pretty bad. As we begin the new year, here are just a few of the ways we can reflect on the past:
At 58.4°F, the 2015 water year saw the highest average temperature (more than three degrees warmer than average) in 120 years of record-keeping.
The average minimum temperature in the Sierra Nevada this winter was 32.1°F, the first time it was above freezing in 120 years of record-keeping.
Average precipitation was below normal in most of the state for the entire year.
The April 1st snowpack was just 5% of the average since records began in 1950. This was lower than the previous record – 25% of average – set in 1977.
Obviously there is no way to be sure what 2016 will bring and a continuation of the current drought is still a possibility; in the past 90 years, California has experienced two six-year droughts.
The entire state – from individuals up through the state government legislators – has made significant progress in the past four years. Regardless to what happens in 2016, we must all resolve to keep working towards a more sustainable water future for California – in particular, one that is resilient in the face of long-term drought.
In other news…
The State Water Resources Control Board lifted drought restrictions on those users with pre-1914 water rights in the Sacramento, Feather River watersheds, and the Delta.
The Southern Nevada Water Authority agreed to sell 150,000 acre-feet of water to the Metropolitan Water District of Southern California, at the cost of $45 million.
California Drought Status
Drought Monitor
Drought conditions
remain unchanged from two weeks ago.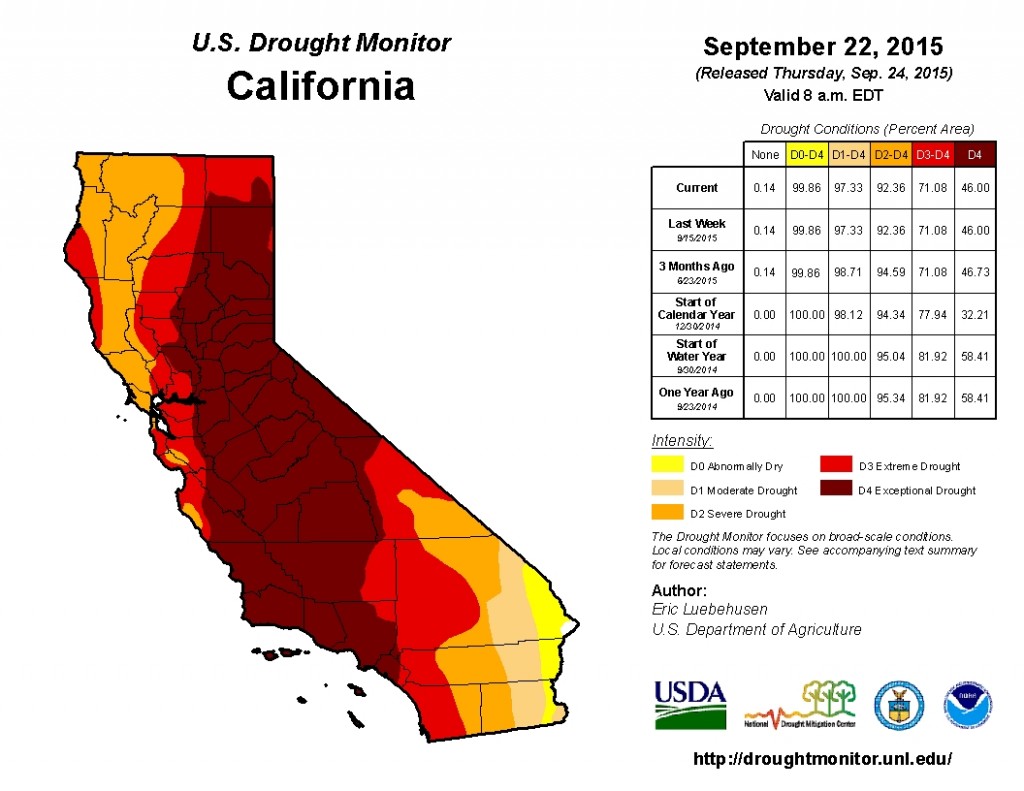 Reservoir Conditions
Statewide, California's major reservoirs
(representing 27.3 million acre-feet of storage) are at 28% of capacity and 49% of group average.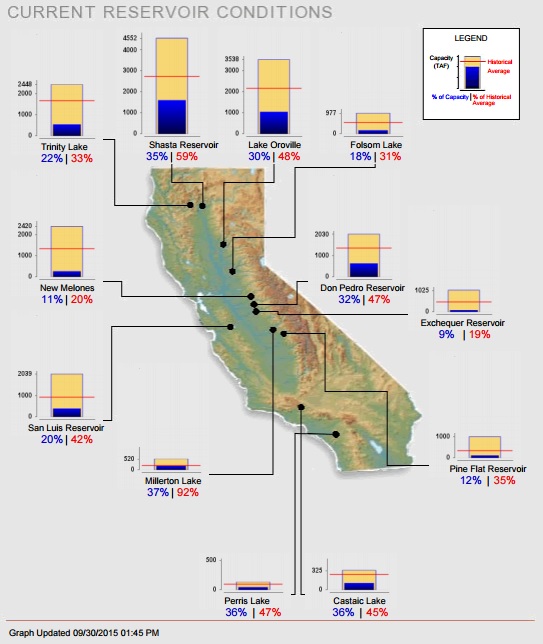 Hydropower
Hydroelectric power generation in July this year was 18% lower than 2014 and 52% lower than the 2003-2013 average.