For the latest updates about the California drought go to www.californiadrought.org. 
This week in… the State Legislature
Last week, a package of groundwater legislation (AB1739 and companion bills SB 1168 and SB1319) passed the legislature and will now go to Governor Brown, who is expected to sign it. Together the bills would require local agencies to implement groundwater management programs and establish the conditions for state intervention in groundwater management.
Two weeks ago, two pieces of legislation passed the State Senate and Assembly. AB 2636 establishes CalConserve, a revolving-loan program to finance water-efficiency projects for home owners and businesses, and help cities and counties reach their water-reduction goals. In addition, AB 2282 requires the state to adopt building standards for recycled water in newly constructed commercial and residential buildings. Both bills now go to Governor Brown for approval.
Last week, the State Senate passed Senate Bill 985, which improves the stormwater resource planning process to encourage the capture and use of stormwater and dry weather runoff.
In other news…
New research suggests Climate change could reduce the supply of surface water runoff from mountains by accelerating vegetation growth at higher elevations and increasing evapotranspiration. This research, published in the Proceedings of the National Academy of Sciences, uses the upper Kings River basin as a case study.
Since January 1st, CAL FIRE has responded to 4,429 wildfires on 84,833 acres. The year-to-date historical average is 3,471 wildfires on 73,061 acres. These figures only represent CALFIRE incidents and so the total number of fires and acres burned is much higher.
California Drought Status
Drought Monitor
Above-normal rainfall in the Mojave Desert has improved drought conditions in a small part of California. However, this improvement will not have an effect on overall drought conditions in the state.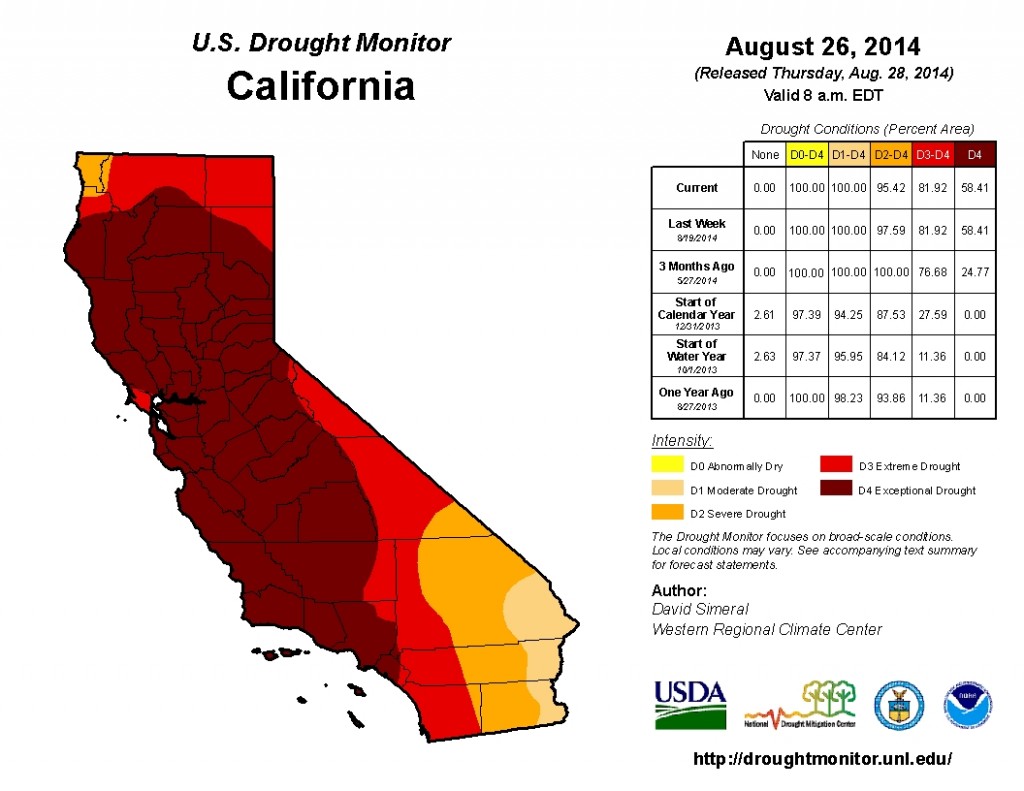 Reservoir Conditions
Statewide, California's major reservoirs (representing more than 26.6 million acre-feet of storage), are at about 31% of total capacity and 51% of normal.