For the latest updates about the California drought go to www.californiadrought.org. 
Read Previous Updates
Find all past drought
updates here.
This week in… Urban Water Use
Today, the State Water Resources Control Board will consider adding more restrictions on urban water use in the State. Last year, the State Board adopted emergency regulations for urban water conservation. Today's regulation would readopt last year's emergency regulations and impose new restrictions. The proposed regulations consist of four types of requirements:
a prohibition on certain irrigation practices
restrictions on certain commercial activities
an order for all urban water suppliers to implement mandatory restrictions on outdoor irrigation
an order for water suppliers with 3,000 or more service connections to provide monthly data on water production, compliance actions, and outdoor water conservation measures being implemented
Two weeks ago, the State Board released urban water use data for January 2015, which shows that water use in January fell nearly 9% in 2015 from 2014.
In other news…
New Research in the journal of the Proceedings of the National Academy of Sciences suggests that warm temperatures combined with low precipitation increases the probability of drought in California. The report also shows that climate change further increases the probability of drought as a result of warmer weather conditions.
The National Oceanic and Atmospheric Administration announced the development of an El Niño, an ocean-atmospheric phenomenon characterized by warmer-than-average sea surface temperatures in the central Pacific Ocean. However, scientists predict the El Nino will be weak and will not result in impacts to global weather conditions.
The Department of Water Resources conducted this season's third manual snow survey. On March 3rd, snowpack was 19% of average for this date, the second lowest recorded snowpack in March.
California Drought Status
Drought Monitor
Drought conditions have not changed from two weeks ago.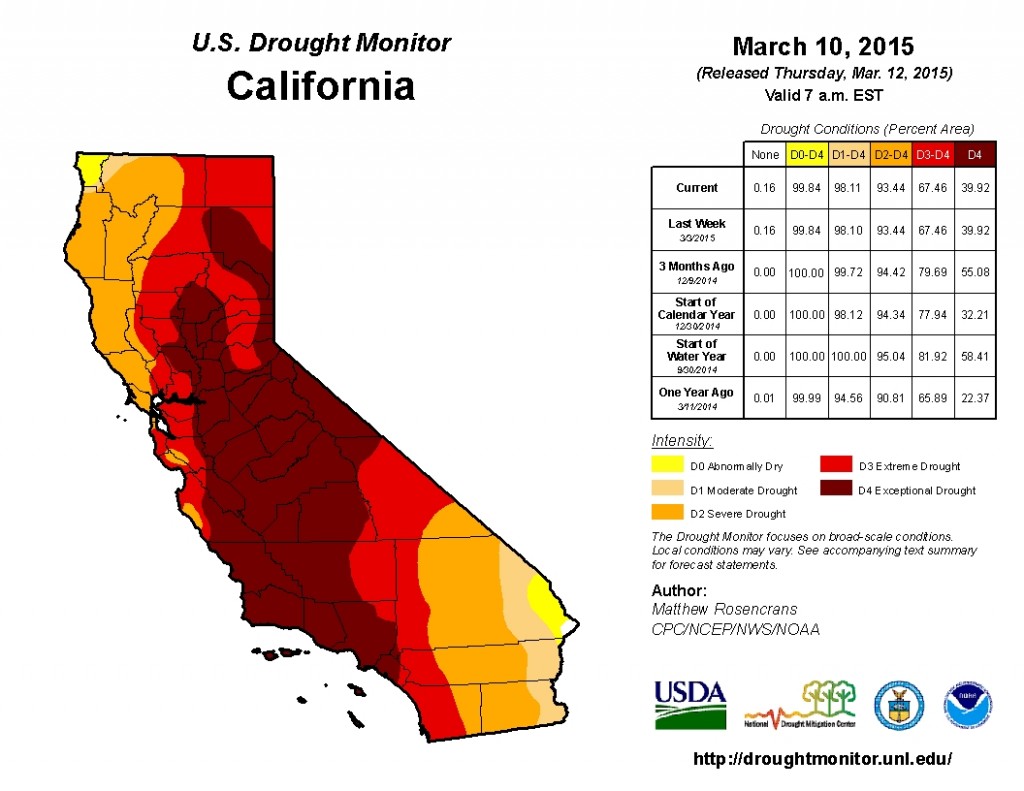 Precipitation
Average precipitation for the water year (which begins October 1st) is still at or below normal for most of the state.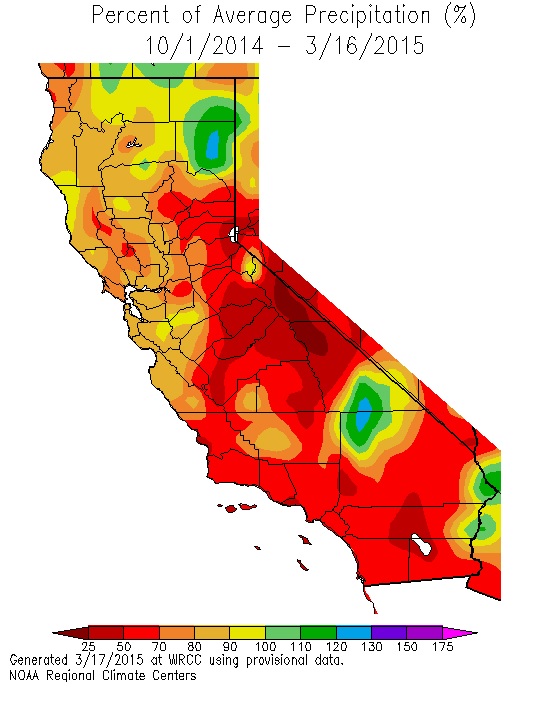 Reservoir Conditions
Statewide, California's major reservoirs (representing 27.3 million acre-feet of storage) are at 46% of capacity and 67% of average.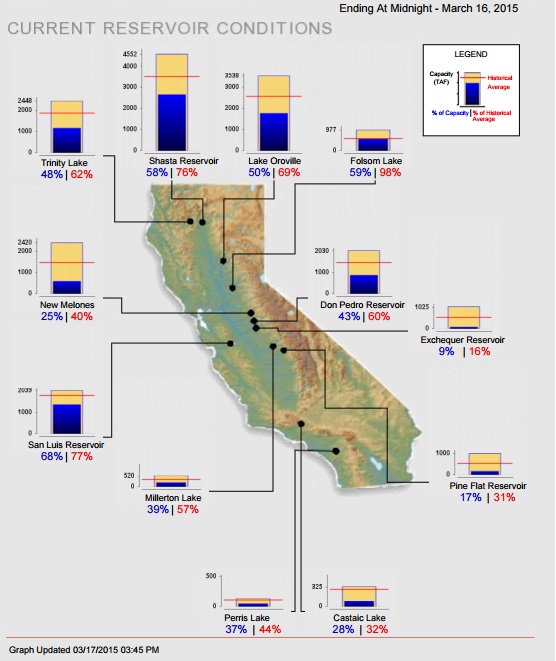 Hydroelectric
Hydroelectric power generation in December 2014 was 7% higher than 2013, but 52% less than the 2000-2012 average. For the 2014 calendar year, hydroelectric power generation was 31% less than last year.