For the latest updates about the California drought go to www.californiadrought.org. 
This week in… Public Opinion
According to a new poll by USC and the LA Times, a majority of Californians believe the drought is a major problem, although most do not want to pay money to address it. Although 89% of respondents believe the drought is a crisis or major problem, only 36% would support using taxpayer dollars to improve storage and delivery systems. The poll also found 78% of Democrats and 44% of Republicans believe climate change was very or somewhat responsible for California's water supply problems. In addition, 55% of respondents said they would not support legislation that would roll back federal fish protections in order to increase water deliveries.
Although this poll found (as did a recent study by the Public Policy Institute of California) a vast majority of residents say they are taking steps to reduce their water use, only 16% of respondents feel as though they have been personally impacted by the drought. A story published today by the San Francisco Chronicle shows that the Bay Area has not yet achieved the 20% reduction Governor Jerry Brown called for in his January drought emergency declaration. Between February and April, customers of the East Bay Municipal Utility District reduced their consumption by 3% and residents of San Francisco reduced their use by 8%. In San Jose, water use in the first quarter of this year was actually up from previous years. However, the SF Bay region already uses less water per capita than most areas of the state and so one would expect reductions to come more slowly than in other areas. Another explanation may be that customers need time to respond to the call for conservation – installing a low-flow shower head, for example, isn't a free or immediate response. The figures cited by the Chronicle do not include summer months when water use peaks, and so increased savings may be forthcoming.
In other news…
California Drought Status
El Niño Forecast
The International Research Institute for Climate and Society at Columbia University has issued their June ENSO forecast. The probability an El Niño will develop by October is now 82%, up from 78% last month. However, forecasts predict only a moderate-strength event, which might not be sufficient to generate the statewide precipitation that usually occurs during stronger events.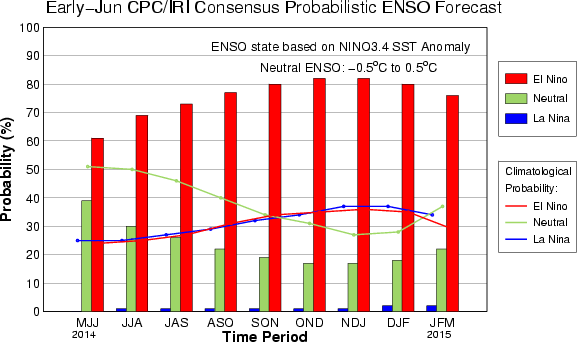 Temperature
Average temperatures in most of California have been higher than average this past week.
Snowpack
Monitoring stations indicate California snowpack is effectively at zero.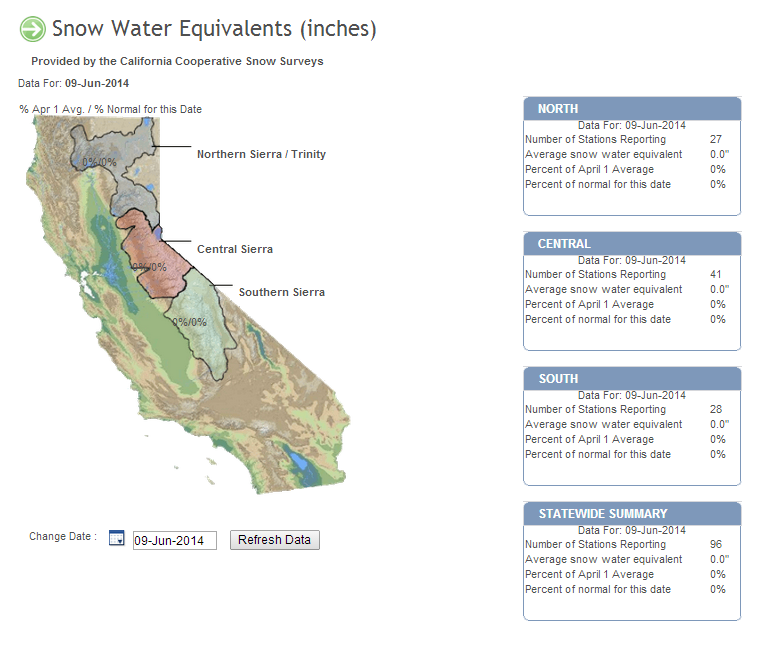 These graphs show the current and historic percent of the April 1st average snowpack. According to the graph, snowpack is generally about 20% of the April 1st average by this time of year, but is approaching zero.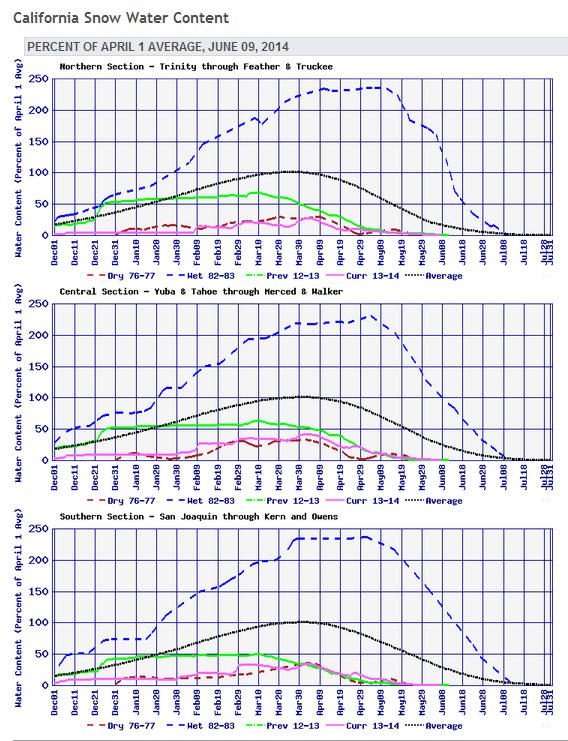 Reservoir Conditions
Statewide, California's major reservoirs are at about 46% of total capacity and 59% of normal.
Hydropower Generation
The U.S. Energy Information Administration released the last Electric Power Monthly at the end of May. Hydropower generation in 2014 through March is down significantly from the recent historical average. The next monthly update is due out at the end of June.