For the latest updates about the California drought go to www.californiadrought.org. 
Read Previous Updates
Find all past drought
updates here.
This week in… Residential Water Use
The state's mandatory water cutback went into effect on June 1st. Communities are being asked to reduce anywhere from 8% to 36% of their 2013 residential per capita water use, for an overall statewide reduction of 25%. Failure to meet these targets could result in a fine of up to $10,000 a day.
Just after these reductions went into effect, the State Water Resources Control Board released new water supplier conservation tiers for California water agencies. These tiers indicate how much each utility is required to conserve, relative 2013 use data. As a result of new information submitted by utilities, 22 tiers have been updated, with 36 requests for updates still pending. So far, the number of suppliers who must reduce water use by 36% has decreased from 86 to 67.
The State Board data show residential users have reduced April water use in 2015 by 13.5% compared to April 2013. The Pacific Institute has created an interactive table and map to help readers explore and visualize these data.
In other news…
The California Sportfishing Protection Association, Restore the Delta, California Water Impact Network and AquAlliance filed a lawsuit against the U.S. Department of Interior, Bureau of Reclamation, the California State Water Resources Control Board and Department of Water Resources, claiming the groups violated the federal Clean Water Act, the Bay Delta Plan, and other laws.
The U.S. Senate Committee on Energy and Natural Resources held a hearing on the status of drought conditions in the western U.S.
The State Board has reduced flows from Lake Shasta in order to protect endangered salmon.
California Drought Status
Drought Monitor
Drought conditions remain unchanged from two weeks ago, except in one category, where 69.6% of the state is now considered to be in "extreme drought", up from 66.6% last week.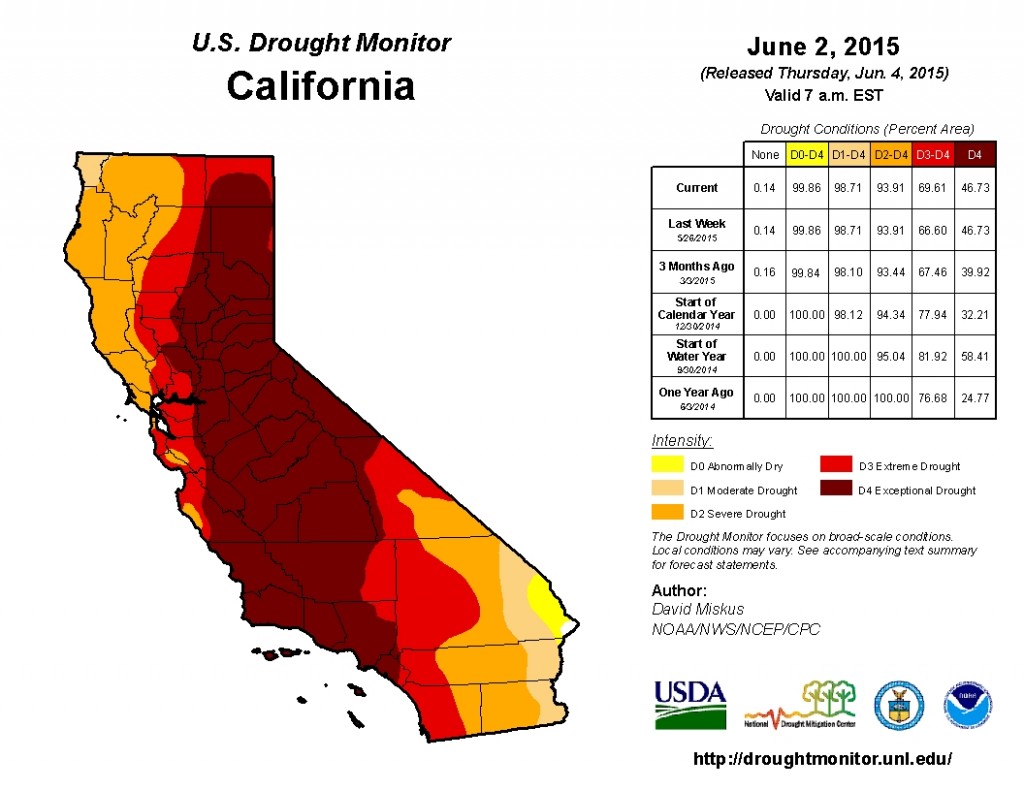 Reservoir Conditions
Statewide, California's major reservoirs (representing 27.3 million acre-feet of storage) are at 42% of capacity and 54% of group average.