For the latest updates about the California drought go to www.californiadrought.org. 
Read Previous Updates
Find all past drought
updates here.
This week in… The Bureau of Reclamation
The U.S. Bureau of Reclamation announced it will make $50 million in grants available to western states for drought response as part of the $96.9 million provided to the Bureau as part of the Consolidated and Further Continuing Appropriations Act of 2015. Among the programs and projects that the Bureau will fund, the following will be available to California:
Central Valley Project (California) ($19.9 million);
WaterSMART Grants, Title XVI Water Reclamation and Reuse Program, and Drought Response and Comprehensive Drought Planning ($14 million);
Lower Colorado River Basin Drought Response Action Plan (California, Arizona and Nevada) ($8.6 million); and
Native American Programs ($4 million)
The Act will also provide $5 million to agricultural water use efficiency projects within the Central Valley Project.
The Bureau also published a new report as part of the West-wide Climate Risk Assessments (WWCRA), which aims to project future changes in water supplies, water demands, and river system operations that could result from changes in climate. The new report projects irrigation demand in eight major river basins in the West and reservoir evaporation for 12 reservoirs within those river basins. The basins include the Central Valley in California, as well as three others shared with neighboring states: the Klamath, Colorado, and Truckee and Carson River Basins. The report found (among other things) that reference evapotranspiration is projected to increase in all basins by up to about 15%. You can read the report and other results from this study and other WWCRA studies here.
In other news…
A new study in the journal Science Advances shows there is at least an 80% chance of a 35-year-long drought occurring by the end of this century.
The Legislative Analyst's Office released a report outlining recommendations to the legislature for effective implementation of Proposition 1, the water bond measure that was approved by voters in November.
The Metropolitan Water District of Southern California will consider water rationing beginning July 1st, if drought conditions do not improve.
California Drought Status
Drought Monitor
Drought conditions in the "extreme drought" category have improved this week, down to 67% from 77% last week.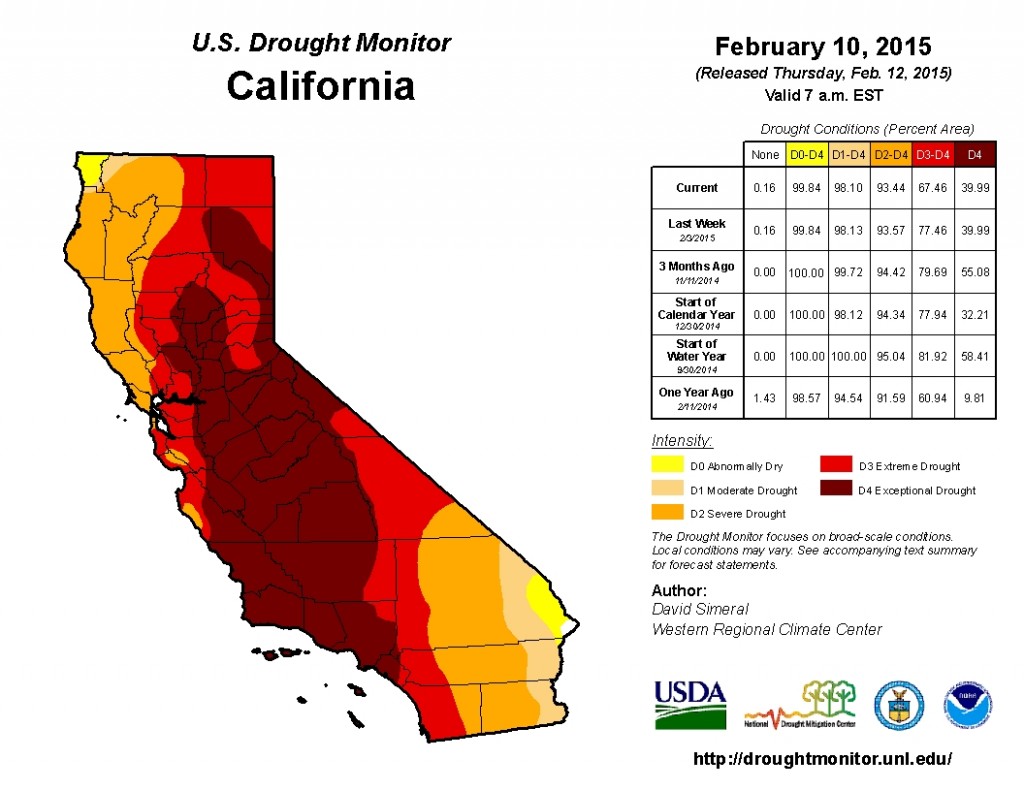 Precipitation
A large storm brought much-needed rain to northern California early this month. Still, average precipitation for the water year (which begins October 1st) is still at or below normal for much of the state.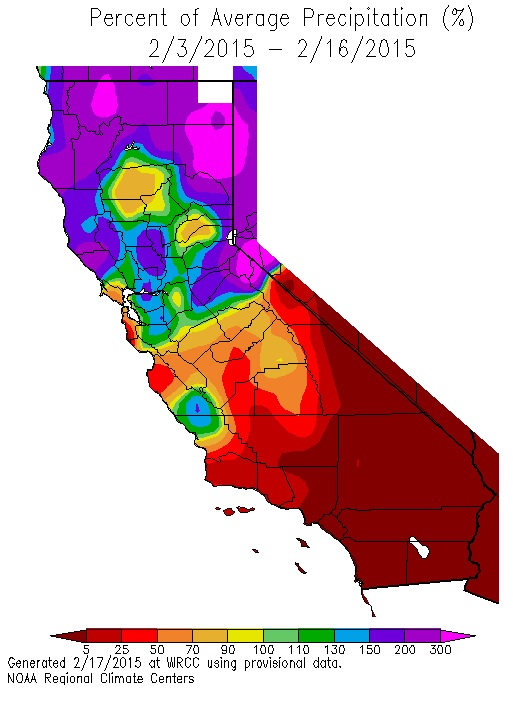 Reservoir Conditions
Statewide, California's major reservoirs (representing 27.3 million acre-feet of storage) are at 44% of capacity and 68% of average.