For the latest updates about the California drought go to www.californiadrought.org. 
This week in… the Water Bond
Big news this week in the state capital…On August 13th, Governor Brown signed a scaled-down water bond that will go on the November ballot this year. The $11.4 billion bond from 2009 was cut to $7.5 billion, in order to improve its chance of gaining voter support.
Although supporters cite the current drought as justification for the bond, opponents argue the bond does little to address the current or future droughts. The new bond does provide $2.7 billion for water storage projects and $725 million for water recycling and advanced water treatment technology projects, however, these projects will be years or decades away from completion.
In other news…
CPUC has ordered water utilities under its jurisdiction to provide notification to customers of water use restrictions and potential fines, consistent with the State Water Resources Control Board's recent emergency drought regulations.
Since January 1st, CAL FIRE has responded to 4,132 wildfires on 80,634 acres. The year-to-date historical average is 3,153 wildfires on 57,290 acres. These figures only represent CALFIRE incidents and so the total number of fires and acres burned is much higher.
California Drought Status
Drought Monitor
Drought conditions remain unchanged from last week.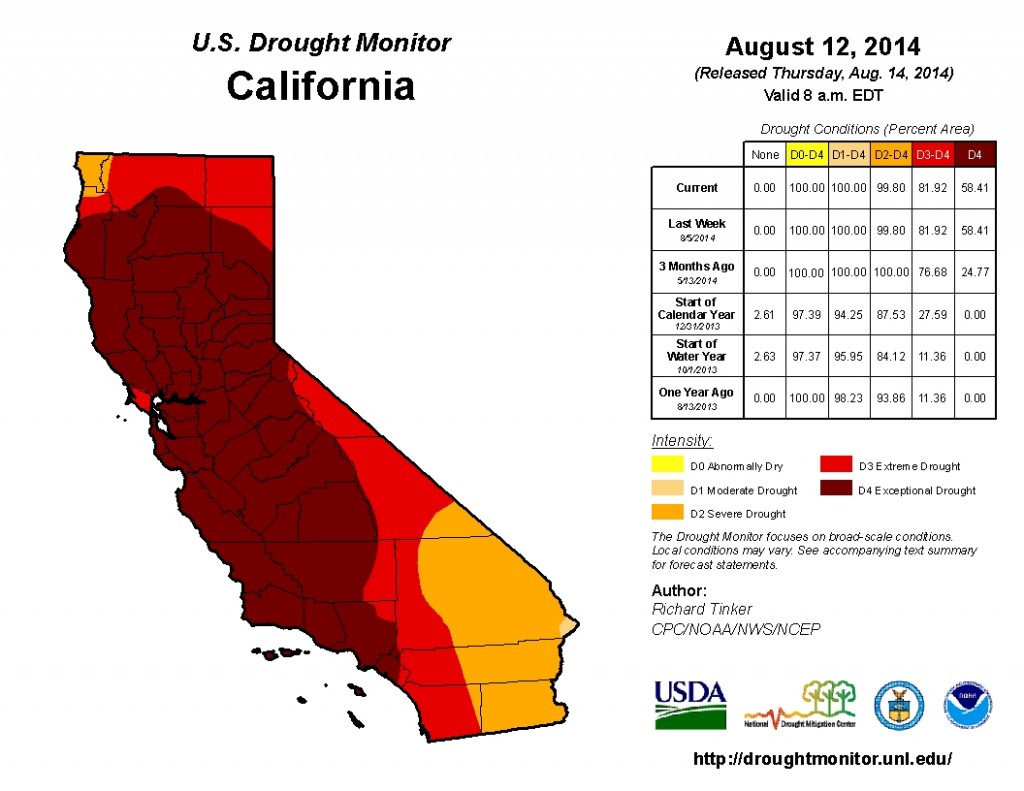 Reservoir Conditions
Statewide, California's major reservoirs (representing more than 26.6 million acre-feet of storage), are at about 33% of total capacity and 51% of normal.