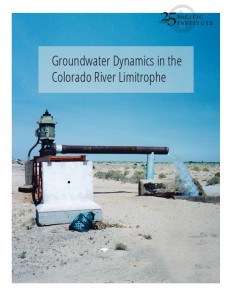 The Pacific Institute is pleased to announce the release of Groundwater Dynamics in the Colorado River Limitrophe. The Colorado River, diverted and channelized and intensively managed, only rarely has enough water to flow even 20 miles past Morelos Dam, the last dam on the river, near the California/Arizona/Baja California border. The river's limitrophe reach is the roughly 22.5 mile stretch from Andrade to San Luis that separates Baja California from Arizona and is generally considered the uppermost extent of the remnant Colorado River delta.
This new report describes and explains the changing groundwater conditions in and adjacent to the Colorado River's limitrophe reach, and analyzes the impact of groundwater pumping on these overdraft conditions. The key question underlying this study asks how changing groundwater conditions in the limitrophe could affect the sustainability of planned habitat restoration projects.
This report is available at no charge here.
Please forward this notice to anybody who might be interested in the topic.
Este reporte también está disponible en español, aquí.