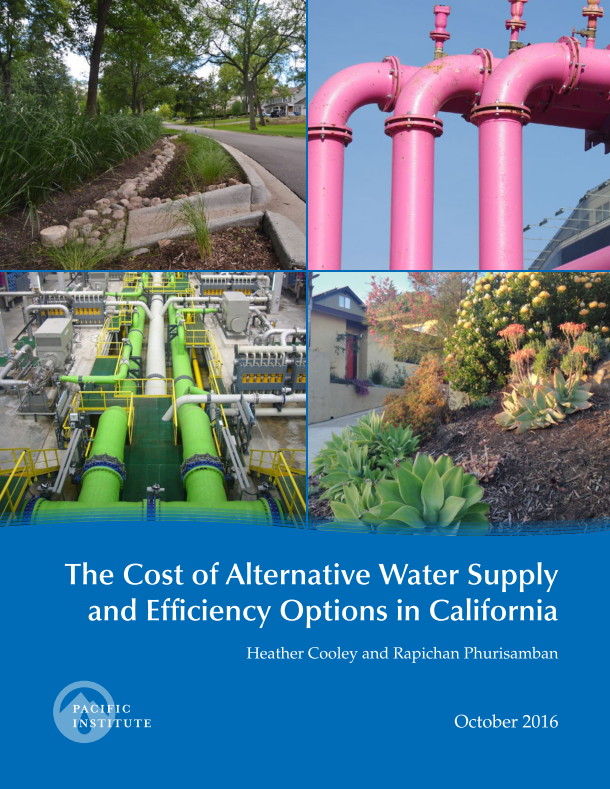 October 13, 2016, Oakland, Calif. – Today the Pacific Institute released the first comprehensive analysis of the cost of alternative water supply and efficiency options in California, using methods developed in the field of energy economics to provide comparable cost estimates for several urban water management strategies.
California is reaching, and in many cases has exceeded, the physical, economic, ecological, and social limits of traditional supply options, yet until this point the cost of alternative water supply and efficiency options have been poorly understood due to limited and often confusing data on the relative costs of alternative water supplies.
The study finds that the cost of new supplies in California is highly varied. Large stormwater capture projects are among the least expensive of the water supplies examined, with a median cost of about $590 per acre-foot. By contrast, seawater desalination, with a median cost of $2,100 per acre-foot for large projects and $2,800 per acre-foot for smaller projects, is among the most expensive water supply options.
Generally, the cost of recycled water is in between that of stormwater capture and seawater desalination. Non-potable reuse – which treats water for irrigation and other non-drinking purposes – is typically less expensive than indirect potable reuse due to the lower treatment requirements; however, the cost of building or expanding a separate "purple pipe" distribution system to deliver non-potable water may be such that indirect potable reuse could be more cost effective.
Nonetheless, the study finds that urban water conservation and efficiency are the most cost-effective ways to meet current and future water needs. Indeed, many residential and non-residential measures have a "negative cost," which means that they save the customer more money over their lifetime than they cost to implement.
Ultimately, California should prioritize cost effective and sustainable solutions to create an effective portfolio of water solutions. While the cost and availability of these options will vary according to local conditions, the
report provides guidance that allows for a cost comparison of alternative water supply and efficiency options and an indication of how to prioritize local, state, and federal investments.
View and download the full report here.
View and download the Executive Summary here.
View and download Appendix A here.
View and download Appendix B here.
###
The Pacific Institute is a global water think tank that creates and advances solutions to some of the world's most pressing water challenges through interdisciplinary research and by partnering with a variety of stakeholders. Founded in 1987 and based in Oakland, California, the Pacific Institute envisions a world in which society, the economy, and the environment have the water they need to thrive now and in the future.