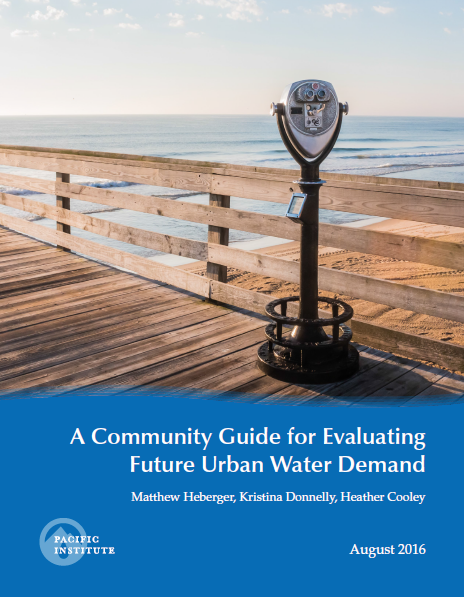 August 31, 2016, Oakland, Calif. — Over the last several decades, water use in communities across the United States has remained steady or declined despite continued population and economic growth, due to improved water conservation and efficiency and structural changes in the American economy. The practice of water demand forecasting, however, has been slow to adapt to these changes.
As a result, water suppliers are likely to overestimate future water demand due to overstated estimates of population and economic growth and underestimates of the effects of water conservation and efficiency improvements. Inflated estimates of future water needs can result in unneeded water supply and treatment infrastructure, higher costs to ratepayers, and unnecessary environmental impacts.
The Pacific Institute has released A Community Guide for Evaluating Future Urban Water Demand, which provides communities, environmental groups, ratepayer advocates, and anyone interested in sustainable water supply planning with the knowledge and tools they need to understand water demand forecasts.
"We hope this guidebook empowers communities to ask the right questions when evaluating water demand forecasts," says guidebook co-author Heather Cooley. "These forecasts can be loaded with jargon and equations; our hope is to demystify the process, so people with a stake in water supply projects can determine if a forecast is realistic."
The guidebook explains how water utilities forecast long-term water demand and reviews some of the approaches and methods commonly used by utilities and consultants. It also provides a set of best practices that can be used to create more accurate and robust long-range water demand forecasts. These best practices include accounting for water conservation and efficiency improvements and land use changes, as well as ensuring transparency and meaningful stakeholder engagement.
###
The Pacific Institute is a global water think tank that creates and advances solutions to some of the world's most pressing water challenges through interdisciplinary research and by partnering with a variety of stakeholders. Founded in 1987 and based in Oakland, California, the Pacific Institute envisions a world in which society, the economy, and the environment have the water they need to thrive now and in the future.