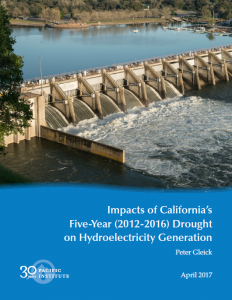 April 26, 2017, Oakland, Calif. – The severe five-year drought in California between 2012 and 2016 was the driest and hottest in the instrumental record. Today the Pacific Institute released a comprehensive assessment of the costs to California of lost hydroelectricity during the full five years of drought.
Under normal conditions, electricity for the state's millions of users is produced from a blend of many sources, with natural gas and hydropower being the top two. During the drought, reductions to state river flows that power hundreds of hydropower stations meant that natural gas became a more prominent player in the mix. This was an expensive change.
According to the Pacific Institute's new report, the five years of drought led to an increase in electricity costs of approximately $2.45 billion. The additional combustion of fossil fuels for electric generation also boosted carbon dioxide emissions (the leading cause of climate change) from California power plants by 10 percent.
"The recent drought was the driest and hottest in 120 years of instrumental records and one of the worst in California history, and it had impacts on all water users, including farmers, industries, cities, and natural ecosystems," said the report's author, Pacific Institute Co-Founder and President Emeritus Peter Gleick. "And in fact, all California ratepayers were affected by the drought as they paid for electricity that was both dirtier and more expensive than in non-drought years."
Following the extended drought, as of March 2017 state reservoirs levels have been restored, precipitation levels and the Sierra Nevada snowpack are well above normal, and hydropower generation is expected to be far above normal over the next year, with positive benefits in terms of the cost of electricity and a reduction in pollution from fossil fuels.
Download the report here.
###
The Pacific Institute is a global water think tank that creates and advances solutions to some of the world's most pressing water challenges through interdisciplinary research and by partnering with a variety of stakeholders. Founded in 1987 and based in Oakland, California, the Pacific Institute envisions a world in which society, the economy, and the environment have the water they need to thrive now and in the future.