Meet Our Staff: Anne Thebo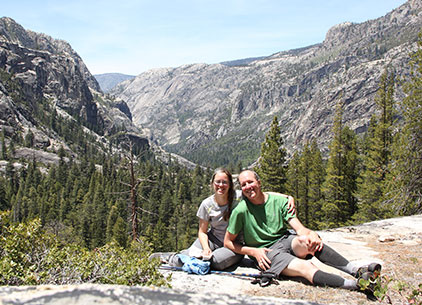 Anne Thebo joined the Pacific Institute in 2017 as a senior research associate. Anne says she first became interested in water as a child growing up in an agricultural region of northwest Ohio. This part of the state was once a vast wetland known as the Great Black Swamp, but it was drained via an extensive tile drainage network to create rich, highly productive farmland. While good for agriculture in the region, Anne explains that "if fertilizer is applied beyond agronomic rates, nutrients from croplands and other sources drain into the western basin of Lake Erie, where harmful algal blooms have become increasingly common."
Anne noticed other water issues in the region. "Closer to home," she says, "the geology and soils that made the swamp possible led to poorly functioning septic systems and groundwater high in sulfur." While she couldn't articulate it until much later, says Anne, "These experiences ingrained in me the understanding that all water problems are ultimately embedded within a complex, multi-scale system where environmentally and economically sustainable solutions require collaboration and consideration of diverse viewpoints."
"The water source most available to farmers downstream of cities in low and middle income countries is diluted, untreated wastewater. While it was apparent that this was commonplace, no one knew the global scale of this practice."
Doing applied, policy-relevant research on water is what ultimately drew Anne to the Pacific Institute, where her work focuses on agricultural water management, water quality, and water reuse. Her work has spanned many scales and contexts including conducting fish population surveys in rural Ohio, studying failing rural water supplies in Mozambique, and developing global models of agricultural water reuse.
A desire to reconcile the tensions between environmental protection and water engineering solutions led Anne to study environmental science and civil engineering at Ohio State University. She worked while in school, including at a water management job in India that inspired some of her later research. In 2008, Anne moved west to attend graduate school in environmental engineering at Stanford University, where her master's work focused primarily on water and sanitation and included projects in Ghana, Mozambique, and Kenya.
"At that time," explains Anne, "the focus of sanitation planning was access to toilets, with little consideration of what happened to the wastewater or fecal sludge from those toilets. Thankfully, perspectives are slowly shifting, but, still, only around ten percent of wastewater produced globally is treated before being discharged to the environment. What this means practically, is that the water source most available to farmers downstream of cities in low- and middle-income countries is diluted, untreated wastewater. While it was apparent that this was commonplace, no one knew the global scale of this practice."
This issue eventually became the topic of Anne's dissertation, which included a geospatial assessment quantifying the global extent of wastewater reuse in irrigated agriculture and an analysis of the variation in levels of contamination on farms irrigating with untreated wastewater in southern India. Since finishing her PhD, Anne's work has expanded to focus on planning and geospatial analysis of opportunities for agricultural reuse of municipal wastewater more broadly, a topic she continues to explore at the Pacific Institute.
Anne lives in San Francisco with her husband Jason. In her free time, she enjoys taking walks to the tops of the city's many hills, backpacking in the Trinity Alps or redwoods, and dinners with friends.