Update: New Analysis Reveals California's Net Agricultural Income Second Highest in History in 2014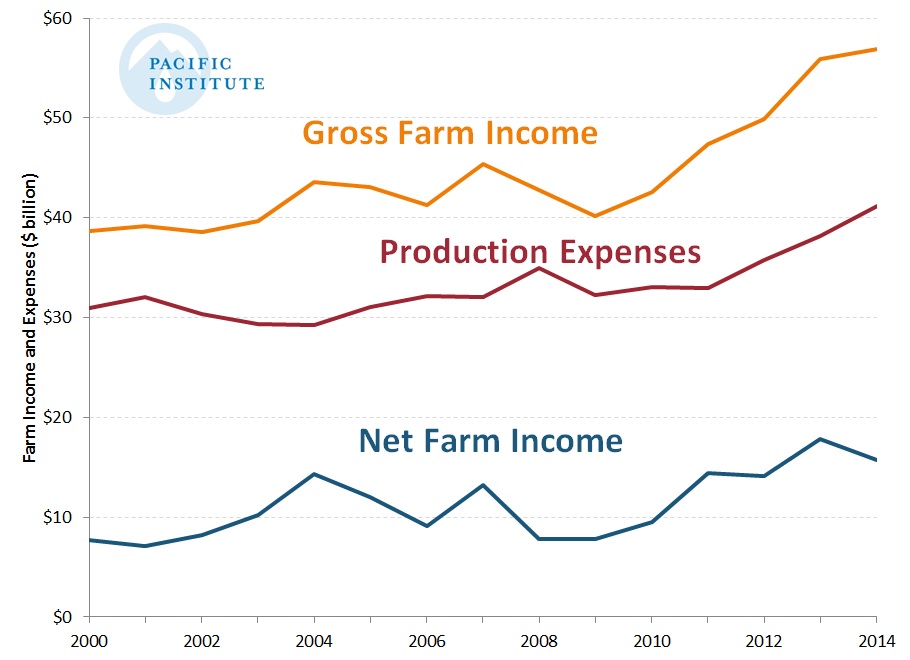 Last month, the Pacific Institute released a first-ever comprehensive analysis of the impacts the California drought has had on agriculture – revealing the agricultural sector exceeded expectations with record high crop revenues during the drought, primarily at the cost of unsustainable groundwater pumping. Since the study's release, new data for nursery and animal product revenue, as well as agricultural production expenses have become available.

In a
blog post
, new analysis of this data reveals California's agricultural revenue and expenses were at record highs in 2014. Net income – revenue minus expenses – peaked in 2013 but was down by 12% in 2014. Despite peak expenses in 2014, net income was also the second highest in California history. Ultimately, even during a severe ongoing drought, farming remains a highly profitable business in the state that remains the largest agriculture producer in the U.S.
Information provided by the study, as well as new net farm income data have provided the agricultural sector an opportunity to plan for and implement more sustainable water use policies and practices to support continued growth and a more resilient future. 
Making Strides at World Water Week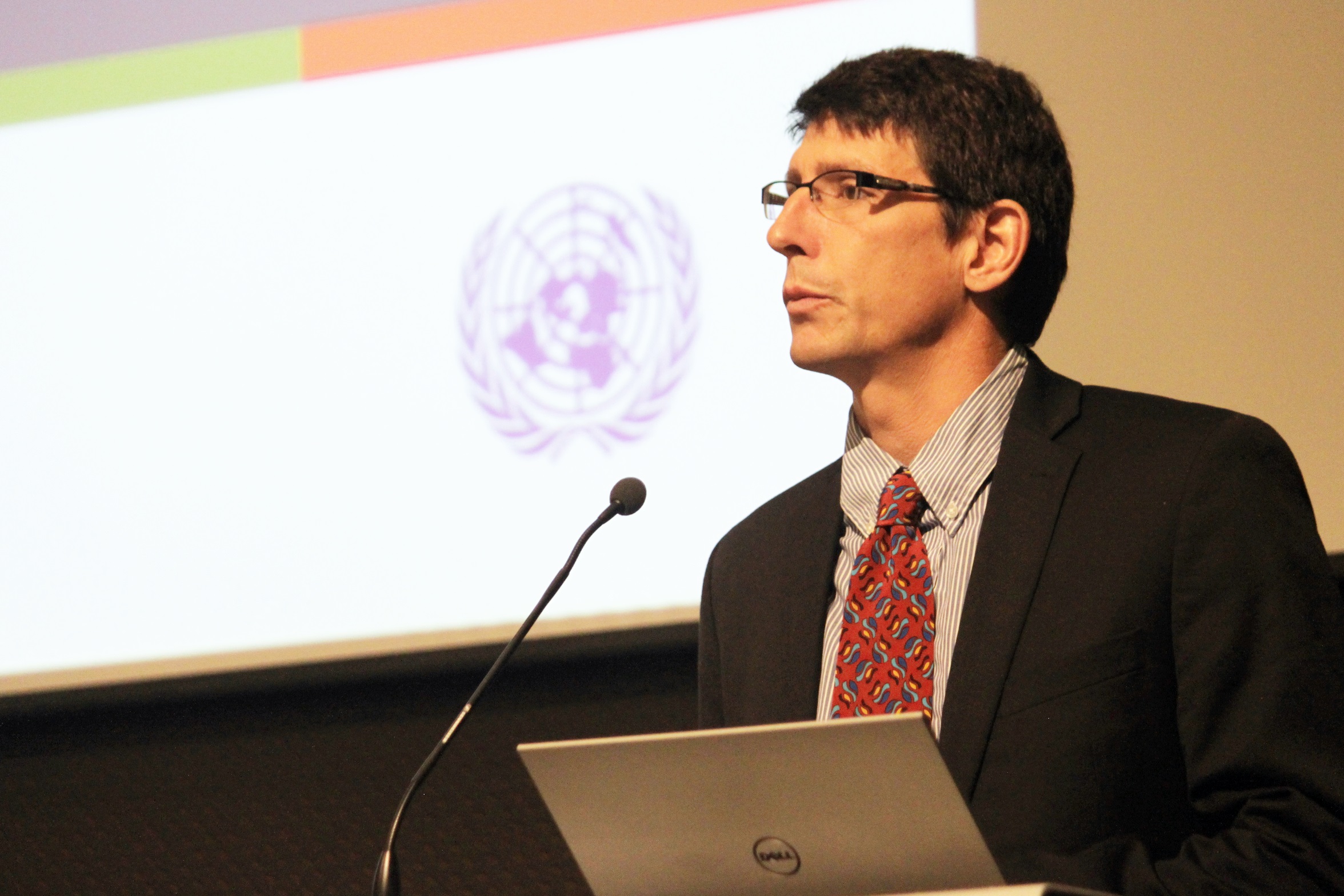 More than 3,000 water professionals from academia, government agencies, nonprofit organizations, and the private sector attended the annual World Water Week conference in Stockholm, Sweden in August.
The Pacific Institute's Corporate Sustainability Program team convened conference sessions and led meetings for the
UN Global Compact's
CEO Water Mandate. For example, the Accelerating Corporate Action on Water, Sanitation and Hygiene session explored the role of the private sector in fulfilling the minimum expectation for providing adequate facilities in the workplace. The Pacific Institute team facilitated discussions with participants about the obstacles companies face in delivering these services to workers and suppliers.

In addition, Pacific Institute staff led representatives from 37 companies and partners from 55 other organizations and UN agencies in discussions about the true value of water, the business case for water stewardship, and emerging opportunities for improved water stewardship targets and metrics aligned with national and global monitoring systems related to the UN's Sustainable Development Goals.
As part of the many World Water Week activities, Pacific Institute staff launched an updated
CEO Water Mandate website
and new online tools.
The private sector is in a better position than ever before to support sustainable water resource management that is critical to long-term success. The CEO Water Mandate is helping companies achieve sustainable development targets for water, including water use efficiency and productivity, water quality, healthy ecosystems, and access to water and sanitation for all.
Over the past year, the Pacific Institute has organized a series of facilitated "Where We Agree" discussions with key stakeholders in order to identify solutions that support sustainable urban water management in California. The diverse group of stakeholders included representatives from water agencies, community and environmental groups, the business sector, and research centers.
Using a consensus-based approach, the group gained consent on key urban water issue areas, identified solutions and policies necessary to address these issues, and developed a coalition to promote these strategies. Stay tuned for the coalition's written recommendations that will be distributed to the public, policy makers, and government officials to improve urban water management practices.
Report From Circle of Blue
Circle of Blue, an affiliate of the Pacific Institute, is the international network of journalists, scholars, and citizens that connects humanity to the global freshwater crisis.
Adapting 21st-century society to an era of water scarcity
 requires an all-hands, all-strategies approach that rewrites outdated laws and policies, boosts local water supplies, maintains or restores ecosystem nbsp;health, and invests in practices and technologies that increase the productivity of each drop of water, according to experts who participated in the 
Catalyst:
 series of interactive town halls hosted by Circle of Blue.
Held over three weeks in August, the Catalyst calls connected public officials, regulators, scientists, farm advocates, and private sector representatives with more than 550 colleagues and members of the public who registered for the three-part series. The Pacific Institute's Peter Gleick joined experts from the World Bank, Columbia Water Center, WWF, World Water Council, and the Stockholm International Water Institute. Summaries and audio excerpts are 
here
.
Rapid Response Fund – Swift Action on Critical Water Challenges


Every day the Pacific Institute helps people and ecosystems access fresh water. Considering its limited supply and the contentious competing needs for it, this isn't an easy task. With our 
Rapid Response Fund
, we meet people in farm fields, corporate board rooms, at the statehouse, in community meetings – wherever we can quickly insert our sensible and forward-thinking ideas to change the way water is used in our communities and across the world.
We are thrilled a generous supporter will match your 
gift
 to the Rapid Response Fund dollar-for-dollar up to $50,000. As we take action on the most critical water issues of our day, we will keep you informed of the ways your Rapid Response Fund made a difference. Together we can ensure the very thing that sustains life on earth – precious water – is available to all who need it.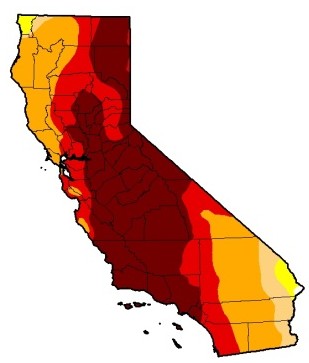 Update on the California Drought 
The Pacific Institute Drought Response Team continues to provide biweekly updates on the severe California drought. To learn more, visit 
www.californiadrought.org.
Past drought updates covered the possible outcomes of this year's expected El Niño event and the ravaging wildfires that have burned hundreds of thousands acres of land.
On September 28th, Heather Cooley will be presenting at the Energy & Water Nexus Summit 4 held at East Bay Municipal Utility District in Oakland California. Learn more about this event
here
.

October 5th, Heather Cooley will be speaking on a panel at the Commonwealth Club in San Francisco entitled, "21st Century Solutions to Critical Western United States Water Woes." For ticket and event details, click
here
.
October 22-25th, Heather Cooley willserve as a panelist at the Environmental Law Conference in Yosemite National Park. Find more information about this event and how to register
here
. 

On October 27th, Peter Gleick will speak at GreenBiz's
VERGE 2015, taking place in San Jose, California. Peter Gleick and California State Water Resources Board Chair Felicia Marcus will participate in a point-counterpoint discussion on overcoming California's drought.
VERGE focuses on the technologies and systems that accelerate sustainability solutions across sectors in a climate-constrained world. Learn more about this event and save 10% on registration with our discount code V15PI here: 
http://grn.bz/v15pacinst
Pacific Institute Experts' Outreach
In August, Pacific Institute staff gave talks at a variety of public events. For example, Peter Gleick and Heather Cooley both participated in the 2015 One Water Leadership Summit hosted by the U.S. Water Alliance in San Francisco, California. Learn more about the event
here
. 
*
Los Angeles Times:
Less Water Might be Plenty for California, Experts Say, and Conservation is Only the Start