CALIFORNIA DROUGHT WEBSITE LAUNCHED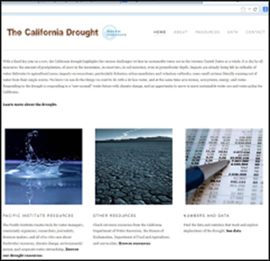 The Pacific Institute has launched the new website www.californiadrought.org, which compiles tools, research, and information on the California drought. The site serves as an invaluable resource to facilitate the work at every level to address current issues and plan strategies in the face of a drier future for California and the western United States. Resources on the website include tools and reports from the Pacific Institute and links to resources and data from more than a dozen state and national organizations, with ongoing updates. Visit www.californiadrought.org.
WATER, SANITATION, AND HYGIENE PROJECT TO SCALE IN INDONESIA
Pacific Institute, Nexleaf Analytics, and Solo Kota Kita Sign MOU

Solo Kota Kita, Nexleaf Analytics, and the Pacific Institute signed a joint agreement in February to transition management of SMS AIR (as WASH SMS is known in Indonesian) from the two U.S.-based organizations to an Indonesian organization that will continue working with the communities and local government agencies in Malang and Makassar to maximize use of the systems for advocacy, customer management, planning, and surveying purposes. Read more.
HEATER COOLEY APPOINTED DIRECTOR OF THE WATER PROGRAM
Heather Cooley has been appointed director of the Pacific Institute's Water Program. Ms. Cooley conducts and oversees research on an array of water issues, such as the connections between water and energy, sustainable water use and management, and the hydrologic impacts of climate change. As a Pacific Institute staff member, Ms. Cooley has authored numerous scientific papers and co-authored five books, including The World's Water, A 21st Century U.S. Water Policy, and The Water-Energy Nexus in the American West. More about Heather Cooley.

REPORT FROM CIRCLE OF BLUE

Circle of Blue, an affiliate of the Pacific Institute, is the international network of journalists, scholars, and citizens that connects humanity to the global freshwater crisis. 
California Drought: Lessons from Australia's Biggest Dry
Tuesday, March 18 10:00 a.m. – 12:00 p.m. PST

.

 
Join the Conversation
How should California respond to its water challenge?
Bring your perspectives, ideas, and expertise and be ready to participate in this special Maestro Conference call. Join Pacific Institute Water Program Director
Heather Cooley
, Circle of Blue journalists, and California and Australia water experts. 
Register here
. 

IN BRIEF

Pacific Institute staff members gave talks and lectures, conducted workshops, and participated on panels far and wide this month. Here are some of the places we've been:
Catalina Garzon, Community Strategies for Sustainability and Justice
– attended

 the Moving Forward Together conference in Denver, CO, an annual national convening of freight transport and community health advocates.
– g

ave a guest lecture on freight transport, community health, and participatory research to an undergraduate course on environmental justice at San Francisco State University.
Peter Gleick, President

: 




–

outlined a positive vision for California's water at the Planning and Conservation League Annual Meeting at the UC Davis School of Law.
– gave testimony on urban water efficiency in the context of the drought to the California State Water Resources Control Board (SWRCB).
– gave the keynote address on the national water situation at "Water Scarcity & Solutions: Global to Local" at Pomona College.   
Jessica Parra-Fitch, Popular Education Associate: 
– co-facilitated a community workshop on zoning and land use decision-making for community leaders in the First Five Program in East Contra Costa County.

UPCOMING EVENTS
– March 20: Michael Cohen will be speaking on a Salton Sea panel at the Water in the West Symposium held at the Annenberg Theater at the Palm Springs Art Museum, 101 N Museum Dr., Palm Springs, Calif. The program starts at 5:30 p.m. Seating is limited, and some seats will be offered to the public on a first-come, first-served basis. More information is available here. 
– April 16: The Pacific Institute is co-sponsoring a day-long summit on green infrastructure and community resilience to climate change with Urban BioFilter and the West Oakland Environmental Indicators Project at the California Endowment's Oakland conference center in downtown Oakland. For more information and to register, click here. 
*
National Geographic
: Heather Cooley also spoke with Josie Garthwaite about how the California drought is affecting hydropower in the state. 
Pacific Institute staff contribute to Pacific Institute Insights, our blog
featuring detailed conversations and critical analyses on the topics of sustainable water management and environmental and social justice. Here are this month's entries: