| | |
| --- | --- |
| February 2014 Online Update   |   |
With a third dry year in a row, the California drought highlights the serious challenges we face in sustainable water use in the western United States as a whole. Responding to the drought is responding to a "new normal" water future with climate change, and a charge – and an opportunity – to move to more sustainable water use and water policy for California. The Pacific Institute continues to be a leading voice helping government leaders, water managers, and the public understand, plan for, and find sustainable water management solutions in the face of a drier future. Check out In the News (at the bottom of the newsletter) for major news items where "Pacific Institute Experts Weigh In on the Drought."  

The World's Water Vol. 8 Keeps Water Challenges and Solutions Center Stage

The Pacific Institute's newly released eighth edition of The World's Water series shows how water touches everything. It addresses a myriad of pressing issues including water conflict, the water footprint, water governance, and more – and their effects on the economy and climate.

In addition to full chapters, the book includes important Water Briefs, a complete table of contents and index that span all eight volumes of the series, and updated data tables regarding improved water and sanitation by country, renewable freshwater supply, water quality satisfaction, progress on Millennium Development Goals, and more.

Additional topics covered include:

– The business case for investing in sustainable water management;
– The emerging market for sustainable water jobs;
– Hydraulic fracturing and water resources;
– Cholera outbreaks directly caused by lack of access to safe water;
– "Zombie water projects," or expensive infrastructure proposals that are killed off and brought back to life despite social, political, environmental, or economic flaws.

Read more about The World's Water Vol. 8 here.
Find select chapters, briefs, and data tables here.

Pacific Institute Insights Blog 

Peter Gleick's Huffington Post Blog

 

 

National Geographic ScienceBlogs

  

 
Madera County Almond Grower Receives 2014 Farm Water Steward Award
Farm Water Steward Award Recipient Tom Rogers's Story
Madera County almond grower Tom Rogers is the recipient of the 2014 Farm Water Steward Award jointly presented by the Pacific Institute, Community Alliance with Family Farmers (CAFF), and Ag Innovations Network at an award dinner celebration at the T.S. Glide Ranch in Davis, Calif. A third-generation farmer, Rogers has reduced water use by up to 20% by improving irrigation scheduling techniques – combining careful soil moisture monitoring and weather information from on-site stations to precisely determine the timing and amount of irrigation water to apply to his almond trees. By doing so, he also has improved crop yield, producing more crop per drop and improving water-use efficiency.
Biannually, the Farm Water Steward Award winner is chosen from the submitted success stories on the Interactive Database of Ag Water Stewardship Case Studies launched by the Pacific Institute and California Roundtable on Water and Food Supply – which includes a video and case study on Tom Rogers's success with smart irrigation scheduling from the Pacific Institute California Farm Water Success Stories series. The database features innovative and effective efforts of farmers like Rogers who work to improve on-farm and regional water management.
Read more about Tom Rogers and the Farm Water Steward Award here. 
Pacific Institute Named a Top High-Impact Nonprofit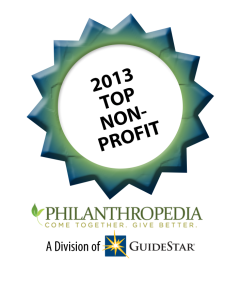 Philanthropedia, the online resource for charitable giving, named the Pacific Institute one of the top five Bay Area nonprofits working on climate change in 2013. The organization surveyed 88 San Francisco Bay Area professionals working in the field of climate change in order to establish the top organizations.
The Pacific Institute was honored for the successful way it "understands the needs of local people and works to offer adequate resources through research and education to improve environmental conditions in low income areas…collaborate with the City of Oakland to advance environmental protection… [and] generate first class research on sea-level rise and its implications."
Read more here.  
New California Drought Website Launched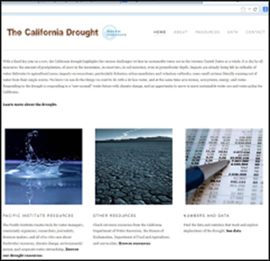 The Pacific Institute has launched a new website at www.californiadrought.org, part of our leadership work in responding to the California drought, come rain or shine, as a "new normal" water future with climate change. With drought impacts already being felt in sectors statewide, the website is an invaluable resource. This compiling of tools, research, and information on the California drought serves to facilitate the work at every level to address current issues and plan strategies in the face of a drier future for California and the western United States.
Visit californiadrought.org 
CEO Water Mandate Actively Shaping Post-2015 Sustainable Development Agenda

On February 18, the President of the United Nations General Assembly convened a special Post-2015 thematic dialogue at UN Headquarters in New York City on "Water, Sanitation, and Sustainable Energy." Opening the two-day event, and addressing UN Member governments from developed and developing countries from around the world, UN Secretary-General Ban Ki-moon called on the international community to work together to secure water, sanitation, and sustainable energy for all.
In relation to water, the UN Secretary-General stated:
"We must improve water quality and the management of water resources and wastewater. This is a matter of justice and opportunity. That is why we launched the
CEO Water Mandate in 2007 to engage the international business community in water and sanitation."
Read the UN Secretary-General's full remarks here.
Learn more about the CEO Water Mandate here. 
New East Coast Planning School: Fun, Powerful, and Ideal 
Popular Education Associate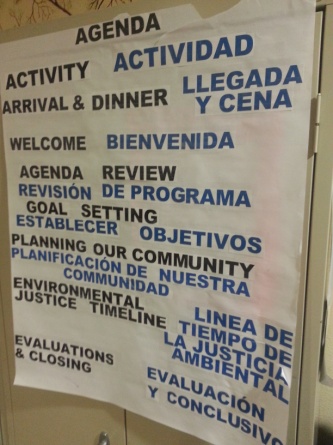 Jessica Parra-Fitch organized and co-facilitated the launch of the East County Planning School in Contra Costa County, California. The Planning School is a collaborative effort organized by the Pacific Institute, First 5 Contra Costa, Contra Costa Health Services, and Regional Asthma Management Prevention program for members of The East County Regional Group that is committed to reducing childhood obesity by advocating for more safe and free/affordable opportunities for physical activity for young children. The launch was the first of six sessions that will take place monthly and it was a great success with 30 enthusiastic participants in attendance. During the launch, participants discussed their vision for their community by doing planning exercises that take into consideration community health and justice that produced a great array of possibilities for the future of East Contra Costa County planning. Participants also learned about the history of planning and how it has shaped racial, economic, and environmental justice. The Pacific Institute and the East County Planning School facilitators are thrilled to work with such a passionate group of community leaders over the course of the next six months. As the session closed and participants expressed their thoughts on the launch and its activities, the resounding responses were that it was: fun, powerful and ideal! 
Learn more about the Pacific Institute's Community Strategies for Sustainability and Justice Program. 
Report from Circle of Blue
Circle of Blue, an affiliate of the Pacific Institute, is the international network of journalists, scholars, and citizens that connects humanity to the global freshwater crisis.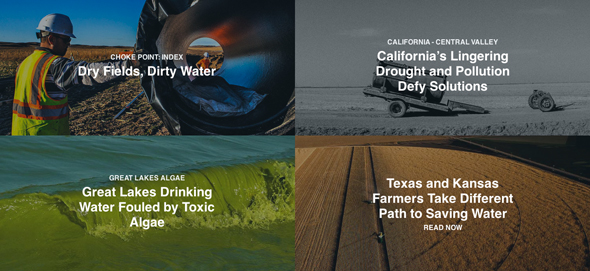 Circle of Blue has launched Choke Point: Index, a dynamic on-the-ground journalism and data project that reveals the globally significant competition between water, food, and energy. The first phase, called "Dry Fields, Dirty Water," explores three critical, water-challenged agricultural regions in the United States – the Great Lakes, Central Plains, and California – to develop new facts and to test data-gathering and analysis tools developed for Choke Point: Index. The project was announced during the International Water Summit in Abu Dhabi. The multimedia reports are available online now.   
In Brief
Pacific Institute Insights Named a Top Water Blog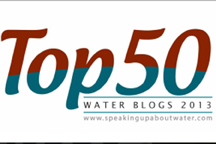 The Pacific Institute blog Insights, launched less than a year ago, was named one of the top water blogs of 2013 by Donna Vincent Roa, a water sector communications expert. Ms. Roa wrote about the top 50 water blogs of 2013 on her blog "Speaking Up About Water." She and her team examined over 250 blogs focusing on water before whittling that group down to 50, and placing Insights at number 17 in its first months out! Blogs were evaluated based on website traffic, online buzz, frequency of posts, and more.
Read about the top water blogs of 2013 here.
Read the latest posts on Pacific Institute Insights here.

Kristina Donnelly Chosen to Participate in Water Leaders Program
  Water Program Research Associate Kristina Donnelly was chosen to participate in the Water Education Foundation's 2014 Water Leaders program. The William R. Gianelli Water Leaders Class is a one-year program that identifies up-and-coming community leaders from diverse backgrounds, including members of minority and ethnic communities, and educates them about water issues. The program enhances individual leadership skills and prepares participants to take an active, cooperative approach to decision-making about water resource issues. Leading stakeholders and top policymakers serve as mentors to class members. Learn more about the program.
Building a Resilient Future in West Oakland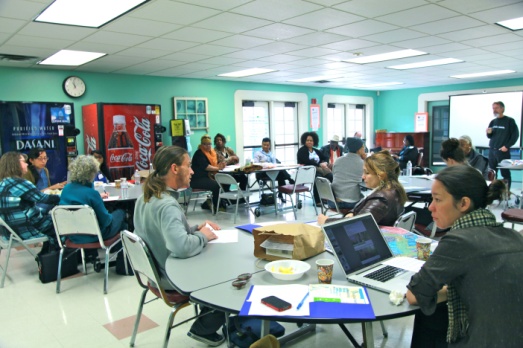 On January 25, Popular Education Associate Jessica Parra-Fitch co-organized and facilitated a workshop on community resilience to climate change with the West Oakland Environmental Indicators Project and Urban Biofilter at the West Oakland Senior Center. A group of 30 community residents gathered to discuss how to lessen the impacts that climate change is having in West Oakland by building community resilience. In anticipation of the changing shape of the risks climate change poses, participants focused on how to strengthen the community so it has the ability, resources, and skills to survive multiple levels of disaster, from having a strong social fabric to building green infrastructure projects. Workshop participants discussed the defense of the community they love and the best ways to embrace change while sharing their vision of a resilient West Oakland.
Pacific Institute staff members gave talks and lectures, conducted workshops, and participated on panels far and wide this month. Here are some of the places we've been:  
Kristina Donnelly, Water Program Research Associate:
– spoke on a panel at the California Irrigation Institute's Annual Conference, entitled "Building a Water and Energy Efficient California."   
Catalina Garzón, Community Strategies for Sustainability and Justice Program Director:
– presented on a panel entitled "Breaking the Impasse: Balancing the Interests of Public Health and Housing in Affordable Infill Development Projects" as part of Urban Habitat's Boards and Commissions Leadership Institute speaker series.
– completed the 2013-2014 Next Generation Leaders of Color sponsored by Compasspoint Nonprofit Services. The intensive 10-session professional development program provides training on nonprofit management skills such as financial management, supervision, and organizational sustainability for mid-level managers in health and human services nonprofit organizations.
Peter Schulte, Corporate Sustainability Research Associate:
– participated in Nike's Corporate Responsibility Report Stakeholder Workshop to discuss how Nike's sustainability practices and related efforts can be strengthened and expanded.
Upcoming Events
– March 20: Michael Cohen, senior research associate, will be speaking on a Salton Sea panel at the Water in the West Symposium at the Annenberg Theater at the Palm Springs Art Museum at 101 N. Museum Dr., Palm Springs, Calif. The symposium begins at 5:00 pm and is open to the public.
– March 25: Heather Cooley, co-director of the Water Program, will be moderating a panel on "Energy-Water Nexus: How Statewide Water Conservation Programs Can Learn from Energy Sector Experiences," at the 11th Annual Water Conservation Showcase on Tuesday, March 25, 9:00 am to 6:00 pm at the PG&E Pacific Energy Center, 851 Howard Street in San Francisco, Calif.  The event is free, but please register by going to the following URL and clicking on the "Attend" link on the right side of the web page: http://www.usgbc-ncc.org/water2014
 The Pacific Institute Corporate Sustainability Program will be participating in several events between March and May. Registration is now open; for more details click below.  
– Money2Water – Global Water Investment Summit: The CEO Water Mandate Secretariat will serve as a supporting partner at the Global Water Investment Summit on May 7-8 in London, a platform to network, exchange investment opportunities, and explore technologies focused on water.
–OECD Water Integrity Workshop: The CEO Water Mandate will participate in the OECD Water Integrity Workshop on March 20 in Paris to discuss challenges and best practices in promoting integrity in water services and resources management around the world.
– The CEO Water Mandate's Water Action Hub and Collective Action in California and the Lower Colorado River Basin: On May 28, the CEO Water Mandate will co-convene an event with Deloitte, Veolia Water North America, MillerCoors, and AT&T in Los Angeles to explore how collaboration among societal sectors can address water challenges in the region and how the Water Action Hub can support such efforts. Organizations interested in learning more about this event should contact Mai-Lan Ha (mlha@pacinst.org)                                            
In the News
Pacific Institute Water Program Experts Weigh In on the Drought 
The California drought –  
christened the "Bellwether Drought" by Pacific Institute President Peter Gleick as a portent for the state's changing weather patterns with climate change – has brought water policy to public attention with renewed urgency. The Pacific Institute has been at the forefront of researching and finding solutions for California's water issues for more than 25 years, and the work continues. In recent weeks the Institute's experts have been the nonstop go-to resource for the media, fielding some 80 calls, informing the conversation on the local, national, and international level. Here are a few of the dozens of stories featuring Pacific Institute experts:
The Economist – "The Drying of the West"
KCBS TV – "Drought Reveals Energy and Water Use Inseparably Linked"  
NPR's Marketplace – "Drought or Not, How Should We Value Water" 
Desert Sun – "Experts Urge Long-term Approach to Water Scarcity in California" 
San Francisco Chronicle – "Desalination Plants a Pricey Option if Drought Persists" 
Mother Jones – "California's Drought Could Be the Worst in 500 Years" 
Guardian UK – "Why Global Water Shortages Pose Threat of Terror and War"   
Bloomberg News – "California Drought Impact Seen Spreading from Fires to Food Cost" 
Tavis Smiley Show on Public Radio International – "Peter Gleick: Nationwide Effects of California Drought"   
Read more news items on the drought with Pacific Institute experts here.
Visit the Pacific Institute's new drought website: www.californiadrought.org.