Upcoming Decisions:
June 5, 2018 — California voters will be asked to approve the California Drought, Water, Parks, Climate, Coastal Protection, and Outdoor Access For All Act of 2018 (SB-5), which includes $200 million in funding for Salton Sea projects and activities.
Salton Sea Links:
General Salton Sea Information from the Pacific Institute
General Salton Sea Information from the U.S. Bureau of Reclamation
California's Salton Sea Management Program
California's draft Phase I: 10-Year Plan of the Salton Sea Management Program
November 7, 2017: California's State Water Board Adopts ORDER WR 2017-0134 on Long-Term Management of Salton Sea
Salton Sea Science Office of the U.S. Geological Survey
Salton Sea Authority website
Salton Sea Restoration and Renewable Energy Initiative of the Imperial Irrigation District
General Salton Sea and Vicinity Land Ownership and Management Map
Birds Observed at the Salton Sea from the Cornell Lab of Ornithology
Salton Sea Timeline from USA Today: "Salton Sea: A History of Broken Promises"
Salton Sea Elevation, Jan. 2000 – Apr. 2018.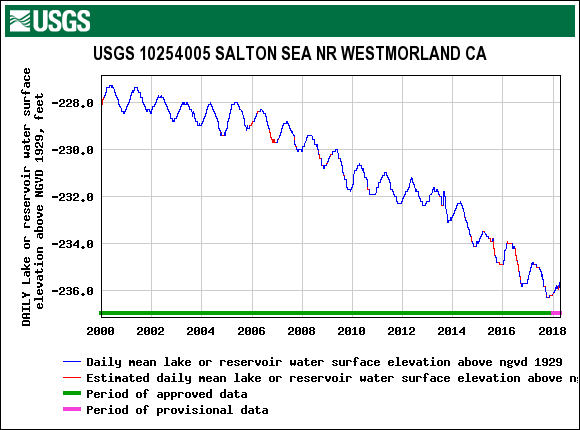 Source: USGS